I'm currently looking for some new writers in order to expand the blog given that I can't post the amount of things I'd like to. So if you are interested in writing about anything related to music (news, TV shows, album reviews, introducing artists) just drop me an
email to musicisthedoor@gmail.com
and we can discuss some of your ideas.


UPDATE: Episode 6 recap added

After the success of the XF this past year, Australia is getting their very own The Voice. It was recently announced that it will return for a second season on 2013 after the impressive blind auditions ratings and with it's serious star power on it's judging panel (Joel Madden, Delta Goodrem, Seal and Keith Urban), the show will certainly give the XF a run for their money. So without more chatter, let's join host Darren McMullen and move on to the blind auditions ...
Recap after the JUMP ...
Team Keith
Adam Martin - 3/4 - "Apologize" (OneRepublic) - He's got 5 sisters and 1 brother. His mother, who is a single mom, always sang to him and later started a family theather were they all performed. He's got a quite unique tone, there's a nice grit in his voice. Adam is a lazy performer though but that can definitely be improved. He reminds me to Aleks Josh from The Voice UK at parts, only that I like Adam better.
Jimmy Cupples - 2/4 - "Woman" (Wolfmother) - Father of 4, Jimmy's been playing gigs for most of his life. Will this be his big opportunity? The guy's a typical rocker, his high pitched voice was somewhat annoying at parts but when he sang in his tenor voice it was all a little better. There's some potential there but I'm not sure there's much space for growth.
Cam Tapp - 3/4 - "Superman (It's Not Easy)" (Five for Fighting) - Stay at home dad who heads a mothers group. He's been singing for 25 years. In 2008 he had a serious car accident which left him in the hospital, so he made a promise of following his dreams. He's got a nice voice but it's a bit boring. I bet it was the song choice cause it seems he can do much better than this. Oh, weird shouting at the end, "Thank god it's over!" he screams. Seal doesn't like that, he says it's not the presonality of a star. Will this hurt him in the long run?
Brett Clarke - 1/4 - "Making Memories of Us" (Keith Urban) - Keith is his inspiration, he wants to be a country singer. Guess that singing on of his idol's song isn't such an awful idea? The guy does not completley suck, as I was expecting but I'm more than done with country singers after Scotty McCreery and Lauren Alaina. Keith's got to have one of them on his team though, so I guess that will be Brett.
Kelsie Rimmer - 2/4 - "Teenage Dream" (Katy Perry) - She's another hand picked artist. She started singing at 15, a time in which she hated the way she looked cause her bottom jaw was in front of her upper jaw, she had an underbite, so she had surgery to fix that. "The best thing I've ever done". Even though she's happy with the way she looks, it's still about her voice. She calls it "poetic justice". This cover reminds me to Sophie Habibis, just because the way she slowed up this tune. This is slightly more country, she's got a very honeyed voice. With the right songs, she go very deep in the competition.


Taga Paa - 2/4 - "Isn't She Lovely?" (Stevie Wonder) - 26 y/o social worker, he helps young disadvantaged kids through music workshops. Taga looks like the lost member of YMS, he's a perfect fit for them, maybe he can join them if The Voice doesn't work. Cool RnB guy, I really was expecting Seal to go for him since he was enjoying it a little too much but that didn't happen. He's got a good voice and he's very likeable but is it enough to win?
Abbie Cardwell - 1/4 - "Ode to Billy Joe" (Bobbie Gentry) - She got into music by putting ads in music stores and getting some "terrible" demos dones. She's been offered deals and signed deals but none of them worked. "I've gradually learnt to believe in myself". She's an unique piece of talent. Abbie looks a little to Imelda May to me, even sounds a little like her. There's a great country rasp in her voice, so she'll definitely be a perfect fit for Keith. Joel said he wanted to push his button but he knew Keith was the perfect match for her.
Darren Percival - 4/4 - "Jealous Guy" (Roxy Music) - He says he's called the "looping artist". "It's like making a sandwich of music". He has two children, he says he's complete in that area of his life but not on music. He's quite great but he's a little old fashioned to me. I wished he had done something more interesting as the "looping artist" he declares to be. Darren's voice is soulful though and with the right song he can be better.
Glenn Whitehall - 2/4 - "A Change is Gonna Come" (Sam Cooke) - He's got two kids. When he was about 30, he stopped full time work and decided to enroll to music college. Smooth soulish sound but a little lackluster to me. I was hoping to see something more exciting, it just didn't happen. Maybe he can impress in the battle.
Diana Rouvas - 1/4 - "Work It Out" (Beyoncé Knowles) - She got into music at a young age. Her parents were professional entertainers. The Voice is a new beggining for her. Good, very good. Beyoncé is not for her though. I'd rather see her taking on something more alternative but the voice is there, I want to see more.
Jaz Flowers - 3/4 - "Big White Room" (Jessie J) - Jaz was the lead in the Hairspray musical. She says musical theater is hard cause you don't fit every casting. She feels limited by her looks. This is quite great. A little shouty, figures it's because of her musical theater past. If she can tone that down and show some restrain, she'll be a contender. Oh poor Delta was about to snag a great team member but Keith took it away from her in the last few seconds.
Brittany Cairns - 4/4 - "Gravity" (Sara Bareilles) - She was born in a Christian family so singing at church was something she grew up with. Brittany's got a gorgeous tone and the cutest personality. Beautiful vulnerable performance, definitely one of my favourite auditions so far and without a doubt my fave member of Team Keith.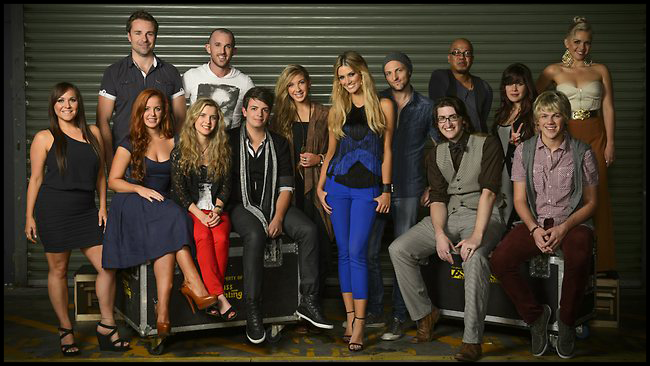 Rachael Leahcar - 4/4 - "La Vie en rose" (Édith Piaf) - Rachael is legally blind. She has a degenerative eye disease called retinitis pigmentosa and has lost 90% of her sight as a result. Singing in french is a bold move but that doesn't allow you to show you're contemporary, specially if you sing a classic. However, she's a fantastic talent and has a beautiful voice, which, combined with her story, will take her quite far. Cuttest moment of the series goes to Rachael asking if anyone turned around after all four did. Delta says that when she was 18 lots of different things happened in her life (she was diagnosed with Hodgkin's lymphoma) and that the whole country was there for her. She thinks she could share what she's been through with her. Rachael calls Delta an inspiration. Poor Delta struggled so hard to find her first act so when Rachael picked her she couldn't be happier.
Matt Hetherington - 1/4 - "Evie" (Stevie Wright) - 41 y/o to-be father Matt has done multiple gigs and some musical theater in his carrer. He enters the stage in a funny way but his actual voice leaves a lot to be desired, it's quite shouty to me. Keith is the one who looks the most interested in him still, Delta is the one picking him.
Peta Jeffress - 1/4 - "Wonderwall" (Oasis) - When she was 15 y/o she signed a record deal but a year and a half later she was dropped cause her voice was so different. "I was never heard" she says, "Being on The Voice is about being heard". She describes her own voice as wacky. Very interesting version of this song, definitely wasn't expecting that. Peta's got an unique and intriguing style. I'm surprised only Delta turned, she deserved more of the judges to. Peta freaks out when Delta turns almost at the end. I love her, hope she goes far.
Danni Da Ros - 2/4 - "And I Am Telling You I'm Not Going" (Jennifer Hudson) - Darren is inviting her to the blind auditions. Her husband wants to have kids desperately but that would mean to put her carrer on hold. So they've decided to wait to have babies. Delta turns straight away, Keith follows soon. Danni is a belter but she has diva written all over her. Her uninteresting song choice didn't help either. She hit some huge notes but I'm not sold on her yet.
Adam Hoek - 1/4 - He auditioned for The Voice of Holland back in S1 with "Waiting on the World to Change" but none of the judges turned around. He's Australian but lives in Holland. I've no clue why he thought it was a good idea to fly all the way to Austarlia when he could audition again in Holland. No wonder why none of the dutch judges picked him, he's not particularly good. There are some nice moments and he's got a nice tone but as he said before, it's very decent.
Ben Bennett - 1/4 - "Teenage Dream" (Katy Perry) - He gets an invitation from Darren at a ballet class? He studies at a performing arts school, which is mostly attended by girls, not that it matters. Not the right song for him but he has a nice tone, if not a bit boring. He reminds me to Niall Horan, a decent singer with an ok look. Seal was right, his lower register was better. Delta should be a little more critical when picking her acts.
Sarah Lloyde - 1/4 - "The Voice Within" (Christina Aguilera) - First Australian Idol contestant to audition for the show! Sarah was part of AI S5 but only made it to the semifinals. From a young age she was bullied at school, particularly cause she was a little heavier. When she moved on to highschool she slimed down but they decided to pick on her music. She says she constantly sang at school but they didn't like that cause she was a bit weird. She decided to audition for The Voice cause it's just about the voice. This Xtina song is definitely not the one she should've sang, it's making her sound a little pitchy. Still, there were some good moments and I'm glad Delta turned for her, she deserves it.
Glenn Cunningham - 1/4 - "Lately" (Stevie Wonder) - He's a backing singer. He's been singing before he could speak. I hardly believe that. He's sang for Guy Sebastian, Ricki-Lee and Delta, so she must remember him, right? I love his jazzy timber but again, this song is too boring for me. I belive he can do better though. Delta instantly recognizes the guy. As Delta pointed out, if she hadn't turn, that would've been a really awkward moment.
Viktoria Bolonina - 1/4 - "Babooshka" (Kate Bush) - Viktoria was born in Russia, where she lived for the first 10 years of her life. She moved to Australia when her mom met her stepfather over the internet. Her mom says they love this country cause all her dreams can come true. Delta is the greatest singer Viktoria's ever heard. Wow! This is way more interesting than I was expecting. This audition is totally unique, her voice is sexy and slightly sultry and unlike anything I've heard in a while. After performing, Viktoria tells Delta that when she first came to the country, she was all that she listened to and that she's the reason she learnt English. Well, here's a happy contestant!
Jerson Trinidad - 1/4 - "Ordinary People" (John Legend) - Another invited artist. Where do they get them from? Originally from the Philippines, he comes from a very poor family. He's obviously a lounge singer, very jazzy performance. Jerson needs to add the surprise factor if he wants to last longer in the competition, this was a little unexciting but I'll give him he has a great voice.
Matty Chaps - 1/4 - "20 Good Reasons" (Thirsty Merc) - In his late teens he joined a band and that caused him to put on a lot of weight. This brought insecurities because everyone judged his music by his weight. Honestly, he's to be one of the worse I've heard. He looked really nervous on stage and he hit lot of bum notes. Some ok moments but it wasn't enough for me.
Jesse and Ashleigh - 1/4 - "Lucky" (Jason Mraz) - Darren is surprising a duo today. The kids are in class when Darren hands them the invitation. Contrary to what people think, they are not a couple. Ashleigh has a boyfriend, who is "massive" accoding to Jesse. They aren't that great but I get why Delta felt tempted to press her button. A duo can be more interesting than a solo artist if done right, unfortunately, I'm not sure these two are that good.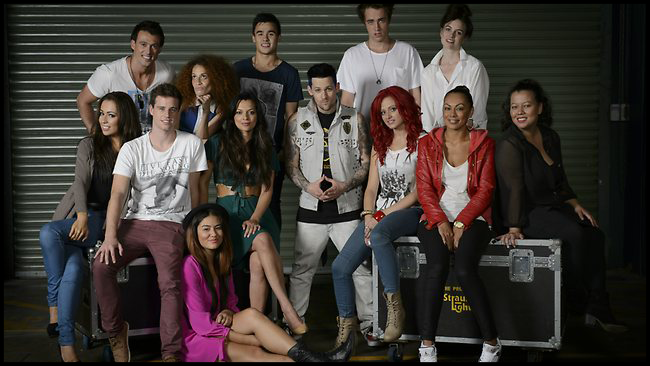 Yianna Stavrous
-
1/4
-
"S&M" (Rihanna) -
She was in a girl group called Trinity. She said they
shook
their asses while on the group. Pretty girl wants to go solo now. Honestly, she strickes me as fodder. Her voice isn't strong enough to go solo in my opinion, she should have stayed with her group maybe. Let's see if Joel can make her better though.
Carmen Smith - 4/4 - "How Come You Don't Call Me" (Alicia Keys) - She's been a backing singer for over 10 years, performing with Idol contestants such as Guy Sebastian, Jessica Mauboy and Stan Walker. Her dad, who belived she was more than a backing singer recently passed away. Carmen picked the wrong song choice to me but even if she did, her voice shone. Not the diva I was expecting to be honest. She's got some beautiful jazzy runs and lots of soul, looking forward to more!
Sarah De Bono - 3/4 - "Price Tag" (Jessie J) - She grew up in one of Melbourne's toughest neighborhoods. Music has always been part of her life, so she's a music teacher. She's one of the hand picked auditionees. She's interesting but not her song choice. I like that she didn't take the song too literal, she took some liberties and that worked. A better song choice will do it for her.
Laura Bunting - 2/4 - "Wuthering Heights" (Kate Bush) - She's been playing piano for 15 years, she went to drama school and got to work an a musical, then played Elphaba on Wicked, very fitting! I'm truly enjoying this. She's like the second coming of Kate Bush, that comparisson triggered by this song choice. I'd love to see her sing something different, way out of her comfort song. She has a wonderful quirky tone though, very theatrical, no wonder she worked on musicals. I hope she goes far, and she should.
Lakyn Heperi - 2/4 - "Kids" (MGMT) - He's an ex-skateboarding champion who had about 30 sponsors. He had an accident when he was 16 and broke his foot. His skateboarding carrer ended but he got started with a new one. It's the first audition he's ever done. Lakyn reminds me to Ben Howard, although his voice is a little less interesting. He's got lots of potential though considering how good was his first ever adition.
Ben Hazlewood
-
2/4
-
"Breakeven" (The Script)
- When he was 19 he moved to London to join a boyband, which later broke up, he was pretty heartbroken about that. Also worth noting, Ben was a contestant on New Zealand Idol S3, in which he placed 4th. Here's one of his final performances if you are interested (
VIDEO
). Six years later, Ben still has the voice. His suave tone, which made him popular during his Idol run is still in full display during his audition and although his falsetto wasn't as strong as it could've been, the guy's got what it takes. Will his second shot at fame be his big breakthrough?
Mahalia Barnes - 4/4 - "Proud Mary" (Ike & Tina Turner) - She's Jimmy Barnes daughter, she says he's one of her biggest inspirations. Mahalia has a daughter. Similar story to Chris Sebastian's, she wants to step away of her father's shadow. There's something very appealing to her. The audition kept getting better, especially during the fast verses. She nailed that song. Joel says her father is like his Australian father. So he's basically mentoring his sister. Haha.
Mali-Koa Hood - 1/4 - "American Boy" (Estelle featuring Kanye West) - Anyone remembers her? Of course you don't. Mali-Koa was on of the auditionees of Australian Idol S7 but was only briefly featured and never made it to the semis. Will Mali-Koa be lucky enough to make it to the liveshows this time? When she was a teen she left her house and didn't come back for a week. She has definitely improved since her time on Idol, she's got a smooth voice but as Seal said, it didn't quite happen for me.
Michelle Serret-Cursio - 3/4 - "Only Girl (In the World)" (Rihanna) - She's wrote a lot of songs and worked with important people. She's has a lot of experience but has never got the record deal she wanted so much. She's got a big voice but there's an air of desperation on her performance, maybe because she has tried so hard to achieve success. Poor Michelle was gonna pick Delta, yet, she was the only coach not to turn. Haha.
Prinnie Stevens - 2/4 - "Sweet Dreams" (Beyonce) - She's been singing professionally for 21 years, she now believes she's ready. Prinnie's got a little daughter, who inspired Prinnie to get her butt into gear. Prinnie's a sassy performer! Big voice, definitely resembles Beyonce. Some off moments, probably because of the nerves, but the good ones make up for that. Keith thinks Prinnie is dressed like a winner, or as a normal person would say, hot.
Nick Len - 1/4 - "Grenade" (Bruno Mars) - He was part of a hip hop crew which won a talent show and went to America. Dancer turned singer, what could go wrong? He seems to have more pronunciation issues while speaking, which is a good thing. Good voice, plus he plays piano but nothing exciting. I suspect Joel may have cast him as fodder, cause he clearly has better acts.
Chris Ninni - 1/4 - "Always" (Bon Jovi) - His father was an operatic singer. He was part of a 70s cover band. Oh, dbag alert. Rocky Balboa is his idol. He wants to be the absolute best he can be. Push ups before auditioning? I don't think so. He's just a decent singer, he's got a big voice but it's nothing unique. Another fodder for Joel?
Team Seal
Casey Withoos - 4/4 - "Samson" (Regina Spektor) - When in school she hid behind her sense of humour, her mom says she's got no confidence, no ego, no self-esteem at all and that she's incrediblly shy. Way to give your daughter some support! Either way, Casey looks very bubbly. Definitely one of my favourite performances so far, even if it's the first I've heard. She's got a gorgeous tone and that will definitely take her far in the competition.
Karise Eden - 4/4 - "It's a Man's Man's Man's World" (James Brown) - She spent almost 3 years in refugees when about 13 but she now lives with her foster parents. She felt she had nothing to give. Well, she certainly has a lot to offer. All four coaches turn instantly for her and there's hardly any overpraising here. Karise is the best I've heard tonight. Her voice is hot, reminds me to Janis Joplin a lot. A mesmerizing audition, Karise will definitely be Seal's last standing member and after that, I'm gonna buy her album instantly.
Yshrael Pascual - 4/4 - "Miss You" (The Rolling Stones) - He wants to give up his day job as a carpet cleaner, which he has been doing since he left highschool. His mother and boyfriend are with him, he's glad to have his loved ones with him. He wanted to audition because of the element of surprise. Yshrael's got an incrediblly funky smooth tone and is the perfect fit for Seal but I really didn't like that song choice.
Chris Sebastian - 2/4 - "Halo" (Beyoncé Knowles) - Guy Sebastian's brother in the house! Why didn't he audition for his brother show? Conflict of interests? Haha. Chris looks just like Guy, they could be twins. He wanted to audition for the voice cause the coaches had no idea what his last name was, probably a good decision. Chris's got a great raspy tone, I actually like him more than his brother. Delta instantly recognizes him when she turns around, after all, he's her best mate's brother. Still, he picks Seal. Aw! Poor Delta is crying after no one picks her. She has turned around for 9 acts now, none has chosen her. I would, in a heartbeat.
Paula Parore - 3/4 - "Don't You Remember" (Adele) - She's from New Zealand. When she was 17 she became a teenage mom, now she has 3 daughters. "Moving to Australia has been the best thing I've ever done, especially for my kids and for me". Another contestant who screams diva to me. I like her voice though, at least her song is somewhat interesting yet completely predictable. She may go far but I've a feeling she'll be paired with Casey during the battles, and be sent home.
Michael Duchesne - 1/4 - "What a Fool Believes" (The Doobie Brothers) - He's a construction worker. That oddly brings Johnny Ruffo to my mind. He's invited by Darren. Dude's got a great tone but his obviously extremely nervous and it's affecting his performance greatly, especially when he goes into an uber shrill falsetto. Seal seems to love him though.
Emma Louise Birdsall - 1/4 - "Mercy" (Duffy) - Her mom has always told her she would be a singer. Since her dad left almost 6 years ago, she's became even closer with her family. Emma's got a great voice, though I think she sang this whole song in the wronge register. Lots of potential though. Seal turns around, then gets up from his chair and starts dancing. Haha. He says she's connected with him.
Sam Ludeman - 2/4 - "Not Over You" (Gavin DeGraw) - He's dyslexic so it was hard for him to learn while in school. His drama teacher "blackmailed" him to get into the school musical, but he loved it. "It saved me". Cool voice, very soulful, similar to James Blunt's in a way. Most interesting thing about it was Joel though. How could he think Sam was a girl? Haha. Honorable mention goes to Delta while trying to win Sam over, "I've got a lot of hot girlfirends" she said but unfortunately, Sam is already taken.
Mitchell Thompson - 1/4 - "The A Team" (Ed Sheeran) - He's fresh out of highschool. He started singing when he was in kindergarten, he also joined the school band in which he played the saxophone. Mitchell's got a nice thing going on but I'd rather have Sam than him. He lacks depth but I must confess there were some really beautiful moments during that performance.
Kieran Fraser - 2/4 - "Same Mistake" (James Blunt) - He's got a lot of karaoke experience, winning a couple of competitions. He gets told his voice doesn't match his look. No kidding? If you can get past the creepy eyes and the awful outfit, Kieran's got a fantastic voice. He's got a cool vibrato, really interesting. More please!
Anthony Dellamarta - 1/4 - "On Broadway" (George Benson) - His parents put him into piano lessons and the church choir when he was young. He worked in the public service for four years and he hated it. I was expecting him to go the country route but he's more soulish. I wasn't crazy about the audition, though the scats were cool.
Fatai Veamatahau
-
1/4
-
"Songbird" (Fleetwood Mac)
- She's the youngest to audition so far. She left school at 14 to sing for her church but is hoping to sing for the wrold. Fatai's got a beautiful voice, she reminds me to Brittany. The last few notes were amazing, showing her unique tone. Team Seal ended with a bang!
Random Thoughts
*Was I the only one that noted Casey Barnes, of Australian Idol S7 auditioned for the show too with a female partner, yet didn't make it? That's a shame, cause he was quite good while on Idol.
*I was bummed to see Esther Welch going home, she looked like a funny ride!
*Daughter and mother auditionees, Rebekah Jensen (35) and Shauna Jensen (57) had both great voices but got cut. Was I the only one that thought Shauna had the worst attitude ever when she didn't make it?
*Poor country singer Tamara Stewart. If Keith's team wasn't already full, I'm sure she would've made it through.
*Seal is the most charismatic coach I've seen. I've no idea how some people don't pick him as their mentor.
*Delta is a great judge despite she got most of the worst acts. She's fun, hot and got lots of personailty. I definitely want to see more from her.
*Another interesting fact ... most of Delta's team members, in fact, 10 of the 12, were defaulted to her team. So that basically means that all the good singers decided not to go with her. That's gotta hurt. Still, she's got Rachael, so she should be fine.
Who I would've chosen ...
Casey Withoos
Carmen Smith
Karise Eden
Laura Bunting
Rachael Leahcar
Brittany Cairns
Fatai Veamatahau
Kieran Fraser
Viktoria Bolonina
Lakyn Heperi
Peta Jeffress
Kelsie Rimmer
This entry was posted on 12:16 AM, and is filed under
TV, TVO Series, TVOA
. Follow any responses to this post through
RSS
. You can
leave a response
, or trackback from your own site.