I'm currently looking for some new writers in order to expand the blog given that I can't post the amount of things I'd like to. So if you are interested in writing about anything related to music (news, TV shows, album reviews, introducing artists) just drop me an
email to musicisthedoor@gmail.com
and we can discuss some of your ideas.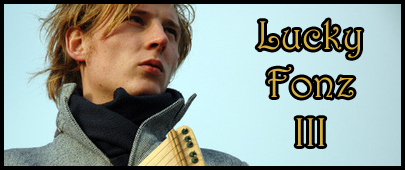 Otto Wichers, known as Lucky Fonz III, has been gaining a lot of hype in the Netherlands recently. Winner of prestigious awards such as the Grote Prijs van Nederland, one of the biggest actually, his music combines folk music with classical elements, plus a really unique mix of instruments. He recently answered some questions for me and the results were really interesting, such as it's name meaning, Dolly Parton and Afrikaans?
Read the interview, buy his albums and check some videos after the JUMP ...
*Why did you choose the name Lucky Fonz? What's it's meaning?
Fonz is my actual second name. I did change the original S into a Z for its typographical value! The name Lucky was a nickname my friends had for me. I am never sure whether they were being ironic.
*How would you define yourself as an artist?
I think of myself as an artist as well as an entertainer. Mostly I think of myself as a performer. I don't get too spiritual about my role as a singer, although I do think music has a ceremonial function at its heart. Nevertheless I think a singer sings songs like a chimney sweeper sweeps chimneys. It's a job, a social function and a life project all in one.
*Who would you name as your biggest influence?/What is your dream collaboration?
My biggest influences would probably be Johnny Cash, Bob Dylan and my fellow songwriters at the Amsterdam Songwriters Guild. My dream collaboration would be a duet with Dolly Parton.
*You studied Literature, why not music?
I had thought of becoming a writer. It only occurred to me I could be a musician much later. I didn't know I could sing. At the age of 16 I considered going to the conservatory but I'm glad I didn't. Thanks to my teachers at the universities I dare say there is some sort of intellectual depth to my thinking and creativity. I feel sometimes musicians who know about music (and music only) seem to miss out on some of the psychological aspects of the whole game.
*Do you conisder that it has helped you with song writing?
Most definitely. It gave me access to lots of stuff that I am inspired by.
*So you went to college and in 2005 you released your debut album, what happened bettween them?
Nothing really, the end of my academic days and the beginning of my musical life overlapped. I remember winning the prize for best new Amsterdam songwriter (MooieNoten) a week after having picked up my master's degree.
*What can you say about the debut? Did it turn as you expected it?
It feels like a long time ago but I love it still. It's totally honest in every possible aspects. Some of the songs, like Micky or The Beat, they mean a lot to me and my fans still. In a way the songwriting sounds more mature than my songs do now. I grew younger I guess.
*In 2006 you won the Grote Prijs van Nederland, how did that affect your carrer?
Big time. It got me in all sorts of festivals, which allowed me to show I could pull it off as a solo act in different types of places.
*I read that you have your own label, MyStreetIsMine, how did that happen?
I released my English records by myself because I felt uncomfortable with the deals that were available at the time. It was a business thing. MyStreetIsMine is a name I picked, stole it from a line of a song I wrote but never recorded.
*So you then released to more albums between 2007 and 2009, Life is short and A family like yours, how has your sound changed between them? What would you say is the concept of them?
The first two records, the selftitled one and Life is Short, I consider them pairs. Life is Short was intend as a folk album with lots of different sounds. I love the sounds on it, it's very intimate but grand at the same time. I especially like the french horn which pops in and out of that record. The third record was made with another producer who brought his own particular sound. I wanted to experiment more, have some elements of my love for house music in there. My little sister, who is very musical, prefers that album because of its strange sounds and because the songwriting is more elaborate.
*You also won an Essent Award in 2007, how did that feel?
Great. They handed it to me after my show at Noorderslag 2008, which went really well so I was pretty much extatic.
*Your latest album, Hoe je honing maakt, is in Dutch, why did you decide to make that change?
I did it because some of my fans asked me to do it. It was also an experiment, I wanted to know if I could do it.
*Do you feel more confident writing and singing in your own language?
No. To me it doesn't matter which language I'm singing in, I know what I'm about. But to the audience it does seem to matter.
*You tend to perform with a string quintet, named The Lucky Orchestra, where did the idea of mixing folk music with classical music came from?
I wish I'd play with them more often! It wasn't an idea to 'mix' styles, it just came out sounding sort of classical. I think that maybe that classical feel was already present in my songs but it came out more with the quintet.
*What song would you pick as your favorite from all your albums?
I would never pick a favorite song. That's like asking 'What's your favorite toe?'.
*What can you tell me about "Ik heb een meisje"?
It's a straightforward love song. It's about the extacy and glory of love and sex. I like the wild studio recording, the sounds can barely contain themselves. I sing this song every show for years now and it excites me always. I can sing it in Afrikaans too.
*What about "Jongens"?
That's almost the counter story to 'Ik heb een meisje'. It's a sad story about a boy unable to deal with the fact that girls reject him. I love the melody in the bridge and the way the chord progressions follow the story. When dutch rapper Fresku made a remix I felt he totally got it. It's probably my most requested song these days. The beat for the recording we stole from a Serge Gainsbourg song.
*Are you already working on new material?
Always and forever. I don't know where it's all headed though.
*What can we expect from you in the coming months?/What are your plans from now on?
I'm playing a bunch of festivals in the summer and in autumn I will be touring quite a bit, mostly Germany and England. I want to try and record stuff in between. So my big plan is basically to keep on going.