I'm currently looking for some new writers in order to expand the blog given that I can't post the amount of things I'd like to. So if you are interested in writing about anything related to music (news, TV shows, album reviews, introducing artists) just drop me an
email to musicisthedoor@gmail.com
and we can discuss some of your ideas.


Steffen Gilmartin was the latest casualty after finding himself in the B2 with fellow Over 23s contestant Pernille. While saddened by his elimination, I can't say I'm pissed at the judges, after all, Pernille is a star that should be rewarded. This week's theme is British music and with it, another act will bite the dust, who will it be? ... It's time to face the music!

Recap after the jump ...


Lina: There is no "love" when we lash out at each other.
Remee: My goal is to create an artist who deserves a place in the final.
Blachman: British pop is near to my heart.
Lina: It is such a big catalog. I am not even sure about the song I picked.
Cut to a scene at Vega where British superstar John Newman performed recently. The XF contestants had a chance to pose one question each.
Henriette
: How did you become such a big success?
Newman
: I was lucky. And I love being creative.
Lucy
: How has your life changed?
Newman
: I am away from home a lot.
ManBand
: How do you tackle your female fans?
Newman
: Ha ha ha ha ha…
(They have to cut out to let him finish laughing)
Girls are the ones in the first row in the crowd, and the ones who buy your records.
Jasmin
: Will you sign this?
Newman
: That's a really good question!
John Newman has a very characteristic voice, just as Janis Joplin's voice is characteristic, or Steffen Gilmartin's. That is always a good thing. I just don't love it, sorry, but you know, I could wake up one day and love it. Just not my cup of tea at the moment.
Harlou: The contestants are getting fewer, but it seems the ambitions are growing higher. How is that, Remee?
Remee: Sure, our ambitions are fine. Saturday doesn't really exist for us, but then Sunday we have to see how we can create another show. I am so surprised every Friday when we have managed to create a show with some people that have never stood on a stage before. Every week it is fantastic to see that we can actually do it.
Harlou: This is for the semi-final, and people are getting excited. Lina, how do you feel?
Lina: I cannot feel myself. I am semi-conscious during the process. Friday I go: Wow! It worked. But it is often an out of body experience during the week.
Harlou: Blachman, you have two groups left?
Blachman: There's no need to pity us, the mentors, we get paid for it, this is just a job. It was so great to see someone like Newman, someone who gives it his all. And now ManBand.
ManBand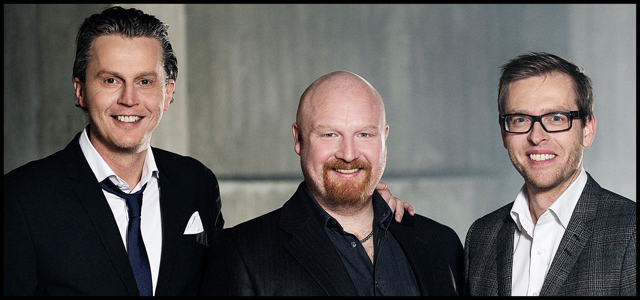 Dennis is a mover, Jesper a teacher, and Ole started his own business in accounting.
Blachman: You represent something basic which has been lost. Friendship. Just being together.
"Don't Talk Just Kiss" (Right Said Fred) - 5/10
- I never thought they could be more old fashioned than last week but surprisingly, they've proved me wrong. Props for that. The song is only from the 90s after all. Good vocals as usual but their dullness is just too much for me.
Their jackets, I don't think they do them any service. They remind me of Olsen Banden (a Danish movie series). Often Dennis is the only one who "moves" and interacts at all; he appears to be the most natural on stage. For the first time I try to follow their voices. It seems all three have a relatively large vocal range. The voices are not fully separated in this arrangement, and it is a little muddy. After their performance Lina rushes to the stage and kisses them, one by one.
Remee
: Any tongue?
Lina
: What, I have to talk too? I think my gesture said it all. I have rarely laughed so much. I had time to enjoy the humour in the choreography. A big hand to the choreographer, Tonia. But it means you were good.
Remee
: Lovely. Like Ritz in Køge, a place I frequented in my youth. Humour makes it so much lighter. Pop is a brutal democracy. It works as long as you have customers. And you have customers. So it doesn't matter what I think, it works as it is. So never mind what I say. You will knock over every mall and gas station when you perform. Very well executed. And the carpenter, the architect of that house…
Blachman
(breaks in): I live in that house; that's it, your time is up. If this had been the first show, then it would have been corny, etc. But it's much more sophisticated than that. It's about liberation and creating a better society for the coming generations. It's more than the gas stations, it's all of us.
Harlou
: Dennis, people are growing hysteric about your open shirt. Are you starting a new trend?
Dennis
: Maybe I am. I sweated a lot during this song.
Henriette Haubjerg
Lina
: From one end of the spectrum to the other. I think we are going in the right direction. Henriette is developing so much. I am so proud.
Henriette
: There is no time to see the family during XF. So it means a lot that my sister is coming all the way.
Sister
: I think it's good that I am coming to see her.
Henriette
: It is so great to take the day off and do something completely not XF related.
Lina
: I am going to show them another side of Copenhagen. Where to get the best sandwiches, burgers, coffee etc., and now we are going to do something else which they probably haven't tried before. — (to Henriette and her sister) Did you ever have a pedicure?
Henriette
: Things are working so well with Lina. I hope I won't disappoint her tonight.
Lina
: There is your way or no way.
Henriette
: I want to make her proud tonight.
"Wonderful Life" (Hurts) - 6,5/10
- Definitely not a stellar vocal performance and lacking the characteristic show-womanship Henriette's made us accustomed of. For some reason, her voice wasn't totally working with this song, as if she had a cold or something. Still, I see so much promise in her, she's a diamond in the rough, one that can hopefully be cut soon.
I watched a video earlier where she is working on "storytelling" with Lina, which implies understanding the song on different levels. Henriette needs that in order to connect with the message of the song and perform it. Again this arrangement reaches a point where you think it has ended, but it comes back.
Blachman
: Yes, that's it. The verses was some of your best, you did that really great. The story, underground story. For once a great text. You (Lina) love those arrangements where the level goes down, then up. It's very effective twice, but maybe not the third time. Chorus, not quite as great. But I still think there is something, a temper underneath, anger, aggression, and we need to see that too. A bit too controlled.
Remee
: (to Lina) Why would you be in doubt about this song?
Lina
: Maybe because Henriette almost threw me out of the window when I presented it to her.
Remee
: It was great. (to Henriette) You are very controlled. But we feel more and more safe in your hands. As to Blachman's underground comment: You needed to arise to that in some way. You are very well-cast for these melancholic songs.
Lina
: I have learned that there is your way or no way. You said I taught you a lot. But I had to convince you. You are very strong, and I respect that. "All that performance, is that really necessary, can't I just sing?" But no, it's also a TV program. And then you do it well. I noticed once during your performance you made a mistake, and the "curtain" went down
(She means when Henriette is "absent", not all there)
, but immediately you snapped back. You are so tough on yourself.
Blachman
: But the viewers noticed … That's not good.
Lina
: I hope they will forgive her.
Lucy Mardou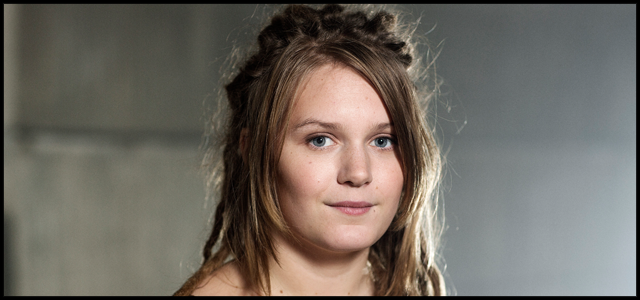 Remee: I have listened to my fellow judges. We found the right song, but then it didn't fit tonight's theme. I mixed Clash, Beatles, Kanye West and Queen for this Britain tribute.
Lucy: My basic mode is to sit barefoot without any make-up in the grass. To be in a giant dress with mask and make-up and having people appear from underneath my skirt is way beyond the limit of my comfort zone.
Husband: She has been pushed so far. I could not record her on video before. An incredible development.
Lucy: It's so great on Fridays when I am all dolled up. — I think it is important to step out of your comfort zone. That's when you develop.
"London Calling" (The Clash)/"Eleanor Rigby" (The Beatles) - 6/10
- Remee's giving Lucy two of the most iconic British bands in one weird mash up. I'm not sure if it worked, what I know is that I really didn't like the "London Calling" part. It's not a exactly a good song to showcase Lucy's original sound and put simpler, I didn't enjoy the way her voice sounded on it. "Eleanor Rigby" would've been a much better fit for her, those whispery parts were perfect.
We start with Queen, then Clash, then The Beatles … As usual there is nothing to remark, technically. A great gimmick when she actually exits from the stage in the end.
Harlou
: How was it?
Lucy
: It was great.
(She has caught a cold)
Blachman
: A crazy blend, but it makes sense. Fantastic to hear you in this energy thing, and with a leather jacket. A transformation figure, that's what you are going to be. Very postmodern. This is modern theatre. But I can't help still seeing you as a very fine singer, damn it. So I am thinking, we want some quiet songs. But that's not what the kids want.
That's it, a transformation figure, because whatever they tell her to do, she can do, and she will do it. I just watched all her XF performances again, and every time she delivers in a completely different style. So a whole show could be a series of transformations, and you never know what you get.
Lina
: I too have to push my expectations aside. I can see it works great. You had no voice left at the end, but that is because you are sick. And the viewers should know that.
Remee
: Yes, it's theatrical. Wild. Next week we might be able to acknowledge some of your expectations, so I hope people remember to vote for her. You deserve it.
Harlou
: Lucy, what is your mission?
Lucy
: To experience and learn as much as possible. And enjoy it.
Anthony Jasmin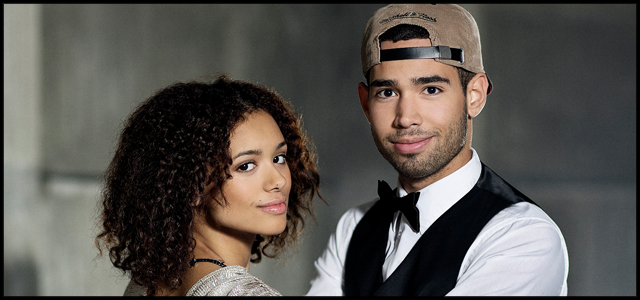 Blachman
: There is so much wild British music. Today we will hear a relatively new song, an then you think: Who can do it? But with Anthony Jasmin it's so easy. They are almost surprised themselves; "Oh, we can do that too." This is a fantastic number, a combination that comes out of a long tradition.
Anthony
: I like to play basketball. When I was a boy, the game helped me get off the street and hang out with a different crowd. Now I am giving it back.
Jasmin
: I don't really do any sport. I'm afraid of balls… To see Blachman on the field, in a suit. You can play basketball?
Blachman
: I was pretty good at this when I was younger. I mean, a lot younger. (misses a shot) Oh, dammit.
"Latch" (Disclosure featuring Sam Smith) - 8/10
- This is such a great song, perfect for them. Loved their vocals, though I don't get why they felt it was necessary to dance to this. I feel it would've been a lot better had they just stood there cause all the movement was utterly distracting. Also, the staging could've been a little better, too much light for my liking. That said, they are worthy of making it to the final, they've got commercial written all over their faces. By the way, the great backing vocalist gets a notable mention, she should give this thing a shot next year.
Super. So good. The third voice (chorus: "Knock! Knock!") seems a little too loud. Jasmin sings "enarmored" instead of enamored. They are accompanied by a string quartet.
Remee
: Great arrangement. The strings, and the styling. Big suits … but they fit! But when … oops, I dropped my… We looked at this song for Pernille, but when I saw you chose it, I thought it would fit a group. A bit fragile in the voices. But great style and song choices… most of them. You will go far. You will be in the final.
Lina
: I agree. Last week was your weakest. But today you bring it home. You have a laid back attitude which is actually not very Danish. Anthony had a "raise" on "chest", just to demonstrate "I can do that too", but no need to repeat it. A positive surprise.
Blachman
: Music is such a great invention. Usually there is a big band for this evening, but we had to see how we could handle it. We did it. I am so happy about this.
Pernille Nordtorp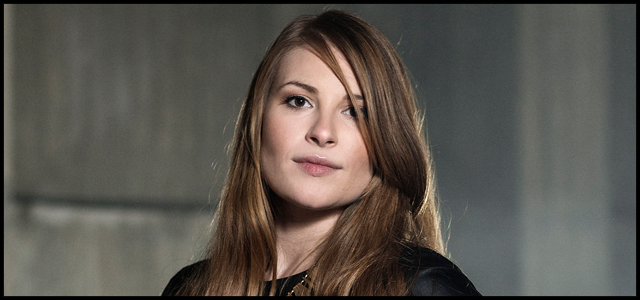 Remee
: Pernille is such a wild girl, a nutcase, the most clumsy person I know. She never walks into a room, she falls all over the place. She is one of the most natural on a stage. Today we have downtoned her. This is one of my absolute favorites artists, Sade.
Pernille
: I have had overwhelming support from my siblings. My sister just moved over here to Copenhagen.
Sister
: I am only just beginning to understand it. She lives in the moment. - Get the focus on something else, other than the danger zone.
Pernille
: I may end in the confounded danger zone again, but never mind that, I still want to do it. - I am so glad you moved over here.
"Smooth Operator" (Sade) - 9,5/10
- This is exactly the type of performance Pernille should be giving us. I give both her and Blachman a standing ovation since this was just the perfect song for her sultry sound and thus resulted in her best performance to date. Wonderful vocals, haunting presence, Pernille is just the star this show is hoping to find. If only the public realized that.
Did she start on the wrong note? I am probably unfair to compare her with Sade, but I cannot resist the temptation: She certainly doesn't have Sade's quality of voice. A different quality, but also not quite the same level. The band is always great, but I think the intro with the guitar is a bit thin, and it does not at all have the laid back feeling. I am very colored by Sade's version, of course, so not at all objective here. If I had heard it this way for the first time, I would probably have liked it.

Lina: Wow, that is quite a mouthful, Sade. You sang better than ever, and you look like a superstar. But I have one frustration. I want you to be more free, in a Four Non Blondes kind of way, more Dr. Martens. Your arrangements are too serious. I am missing a more gung-ho attitude.
Blachman: If I were a woman, I would be like you. I know all those tricks. You master the gender you were assigned; your humour, attitude and personality. One of your best performances.
Remee: I understand Lina's point. Some, the women, might be thrown off by it. But we couldn't help it for this performance. People will see it on the screen, that your dress is red, and the rest is black-white. Let's hope for you that your clear voice came across, because … you won't survive another danger zone.
Pernille Nordtorp
Anthony Jasmin
Henriette Haubjerg
Lucy Mardou
ManBand
Anthony Jasmin, Lucy and Pernille continue. I actually expected ManBand and Pernille in the B2, but Pernille took Henriette's place. It seems I am not the only one who is confused: Henriette makes it all the way over to the saved area…

Harlou: Can you do it again?
Henriette: Yes!
Harlou: Will you do anything different?
ManBand: No, just give it all and have a party.
Harlou: Remee, do you remember the last time at the Town Hall Square?
Remee: It was fun. We did that the first two years. I think Blachmann held his first dictator speech there - You could see when he came in he could not hold it back, it exploded inside him. The concert is a tremendous release for our contestants.
Bottom 2:
Henriette Haubjerg
ManBand
Finally ManBand is in the B2. Hopefully that also means we won't have to see them again. Henriette deserved being here, her performance wasn't awful but it wasn't great either. She had a weird sound all throughout it.
ManBand sing Don't Talk, Just Kiss. They really do give it their all.
Harlou
: How was it to do it the second time? It looked good.
Jesper & Dennis
: It was great.
Dennis
: Wow, this has been such a ride.
Jesper
: We are not out yet…
Harlou
: Ole is it different the second time?
Ole
: We gave it a bit more. It might be the last time. But we talked about that, it's the rules of the game.
Harlou
: This is about the semi-final. Are you eager to go there?
ManBand
: It's more that the songs we have, we really want to sing them.
Now what? I think Henriette is so obviously the right choice, especially considering her overall development. Besides, this song choice might have been tonight's best for me (I didn't know it). I think Blachman probably prefers Henriette over ManBand in reality, and he has before kicked off his own group to keep another contestant in.
Blachman
: Henriette, I loved you from the start. You have this quirky personality. You had a bumpy road with some odd song choices; they were too banal, quite simply. But you are a good singer, you have proven that tonight. You pay your bills, and work at Netto
(a supermarket chain)
, how many can say that. But I think everybody knows the game, we have to point at our own contestant, etc. ManBand, this is an important project. You allow the heterosexual man to refind his erection through you, and realize that he can acknowledge his emotions; you don't have to play a role, you can take a chance. This is a very moving moment for me. Next week we have a brilliant song choice; I am hoping for you, but it's not up to me. So I vote for Henriette to go home.
Lina
: ManBand, I don't understand why you are even here after this. It was very persuasive and charming. And something will be missing without you. But Henriette demonstrates at 16 that there is more to get there. And whatever happens, I am looking so much forward to recording with you, because I love your voice. The performance part will come. People might not think we have accomplished that yet, but I think you are on exactly the right track, so I vote ManBand to go home.
Remee
: This is unpleasant. It would be easier if you were real bastards, but we get to know each other too well. We went out together the other evening. And I know how much energy you put into it. So it hurts, having to do this. ManBand, you had your funniest performance, ManBrand… er… -Band. "Do You Realize" was the best, and since then you have slid downhill as I see it. Henriette, your voice is at the center right now, we cannot feel a full artist in you, but I think there is so much of an artist in you, that this would be an insanely good course for you. And it seems you have found a belief that you can do it. You did not look that way when you first came around. You have done really well. We should be proud of you, you can be proud of yourself. But I have got to go with what I can hear on a record, hear as an artist, and what moves me the most vocally. We will miss a lot of energy and humour, but my choice is to let Henriette stay and send ManBand home. Sorry.
Blachman does not seem unsatisfied.
Eliminated:
Harlou
: What are you thinking?
Dennis
: I don't know.
Jesper
: Well, we're going back to work.
Ole
: Can I say something? I want to thank DR, the mentors, … and one person in particular: Patrick Gøtterup up there, who arranged our songs. Without you…
Blachman
: You forgot to thank me. This was masterminded! You came here as hillbillies. Look at what you have done! You can sing those corny songs like nobody else. But contact me, call me and tell me how it's going. Because it can go very wrong. But it went so well, musically.
My wishes have come true. No more dreadful performances from this trio! The Top 4 is kinda perfect to be honest. Now let's just hope they keep delivering in the next two weeks.
Based on their overall performance this week I rank them: 1-2. Lucy Mardou/Anthony Jasmin 3. Henriette Haubjerg 4. Pernille Nordtorp 5. ManBand. A couple of weeks ago I had Pernille at the top, based on the performance of that week.

In my eyes the judges (and viewers) have picked the right one to go every time. Once again: It's about finding one overall winner. The order that non-winners leave is immaterial, as long as "the best" is still in. At this stage I would be very disappointed if Lucy Mardou or Anthony Jasmin were sent home, meaning: I don't think Henriette or Pernille is the best in the competition right now. They would have to win me over.