I'm currently looking for some new writers in order to expand the blog given that I can't post the amount of things I'd like to. So if you are interested in writing about anything related to music (news, TV shows, album reviews, introducing artists) just drop me an
email to musicisthedoor@gmail.com
and we can discuss some of your ideas.


We finally said goodbye to ManBand last week. Now, only 4 remain, 2 Overs and 1 from the Under 23s and the Groups. Only 3 will be making it to next week's final, who will it be? ... It's time to face the music!

Recap after the jump ...


The top four contestants will be singing Monday on the Town Hall Square. ManBand will be there to warm up.
Harlou
: Remee, are you getting nervous?
Remee
: Yes, super nervous. It's like an exam with five million censors. And we cannot do anything, it all depends on their performance…
Harlou
: Blachman, today you don't have a say…
Blachman
: I never have a say in anything. But one can recommend. But we have run this show so many years now, and people are becoming more sensitive. I am a part of the people. We used to talk about "the creative class"; it is slowly becoming the creative mass! That's where the great visions are.
(I sometimes wonder how much of Blachman's rants is prepared in advance.)
Round 1
Henriette Haubjerg
Lina: Henriette came here with a fantastic voice, and not much else. But now she is unfolding.
Henriette: My parents learned about my singing when I asked for permission to join a singing competition.
Father: We were surprised. We practically never heard her sing.
Henriette: I learnt to sing at home in my room.
Mother: We feel it is great that she got that gift and talent.
"Free" (Ultra Naté) - 7/10 - This is the kind of performance I'd expect Henriette to give after the show ends, she'd be perfectly suited for this electronic style. I wasn't blown away by the song choice and her delivery left much to be desired but she's finally letting go on stage. She just needs to give it a little more.

Blachman: You are on the right track. Nice that the volume is not going up and down. (Lina laughs) I think I am starting to get a glimpse of the artist. But that goofy smile at the end: Where is that when you are singing? Nice song choice. I can see a profile as an artist. I can hear a record. But I am missing the last ingredient.
Remee
: Thomas said something right
(The eternal "war" of the judges, Remee is indicating that Blachman has most of it wrong. Sarcasm and irony are national sports.)
"An artist who works on a record". And that is why I chose you. You were very busy following all the cues, and you may have missed some of them. I think you brought out a new side of that song. You did very well.
Blachman: That is why you work at Kvickly. The glimpse in your eye. I would go shopping there every day. Don't lose that.
Lina: I think you did so well. You have understood what you have to do. We are on the right track. You are on the move now, and I hope you make it.
Pernille Nordtorp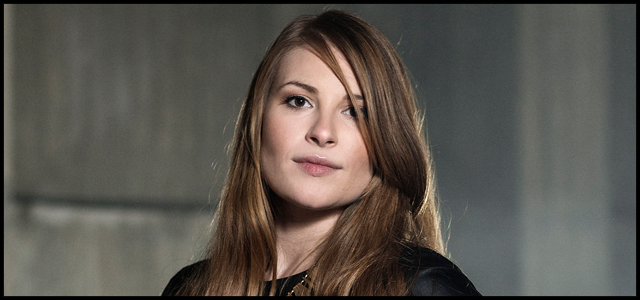 Remee: It took a while before people got their eyes on her, as I hoped they would. She is one of the strongest vocals in the competition, and I am hoping for you. The next song is super corny eighties pop in a cool way.
Pernille: I was born in 1986.
Mother: We played all kinds of music to her.
Brother: Music is everything for her.
Pernille: For a while we had techno playing. The music has a connection with my mother's job.
"Take My Breath Away" (Berlin) - 10/10 - My god! That was just exquisite! Pernille's got such a wonderful honeyed tone, a tone that shone brighter than it ever did on this emotional rendition of an 80s classic. I'm at a loss for words really. Just give her the crown already.
Pernille is great at reflecting the message of the song. She is not another record on legs, she really invests in the mood. Very emotional. Henriette could learn a lot from her. I am not at all saying that Henriette is bad, but Pernille has a lot of what Henriette is lacking (currently).
Lina: Really good. What I love about this performance is, it's the first time you gave it all you had. Emotions, pain. You are a tomboy, you can crack a joke. You have the emotions on the outside, but now they are expressed in the song.
Blachman: This was on the music's premises. Your best vocal performance yet.
Remee: We have talked about how this moment had to come for you. This is your victory. You fought for this song. This was your moment. I hope people will acknowledge that. This was a real singer.
Anthony Jasmin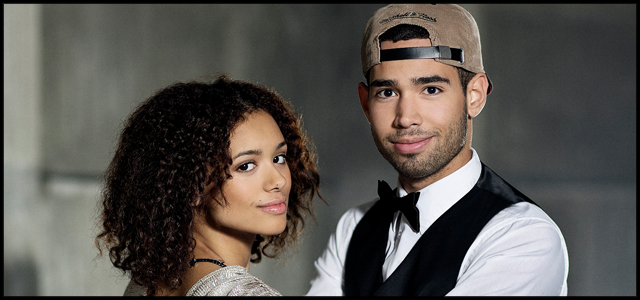 Blachman: Jasmin was born in 1998. The nineties were a very creative decade. We have to take music from another time and expose the young contestants to it. I am so impressed by what they can do, and how they can even remember all they have to do.
Jasmin: I taught myself how to sing. And then I started posting YouTube videos of it.
Anthony: On weekends my mom would clean out and we would play music with open windows and dance to it.
"Broken Homes" (Tricky featuring PJ Harvey) - 9/10 - This is so Blachman. Not complaining cause I love it when he gets creative, something that he's not done enough this season, and this was no exception. I've said it before but I'll say it again, this seems to be Blachman's second chance at winning, his last opportunity being with Nicoline Simon & Jean Michel, a group so similar to Anthony Jasmin. Great, dark, imaginative vocals. Cool staging. Could you ask for more?

One of the few songs that is not about love and relationships: "If you are famous, you can get acquitted, if you did it." Very dramatic arrangement with the choir. In this song they could have effectively made one of the "come backs" which Blachman has criticized Lina for, but it was very good as it was.
Remee: We have a situation here where the sum is more than the parts. This was clearly your mentor's project; I don't think you brought that outfit from your own wardrobe. Super strong. You are absolutely worthy of the finale.
Lina: You are the closest ever to real pop stars in this competition. Sure, there have been better singers. You have the whole package. You sing well ENOUGH! And you look like a million. And you can manage it even when you are handed something like this. "Happy" seemed like a more natural genre, but you can carry it. As Remee said, your mentor's project, this song.
Blachman: This was the ultimate challenge. The youth has to touch something else. You are insanely good, I am actually surprised how good you are. On TV you will notice that this was probably the simplest ever: Just a single camera following you.
Lucy Mardou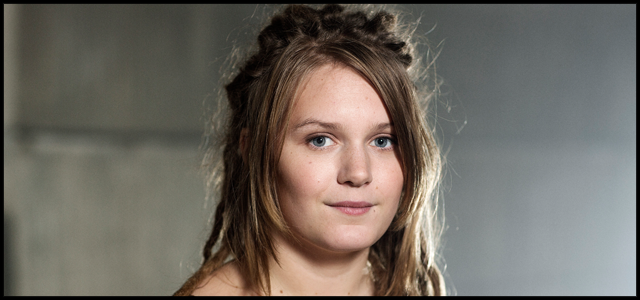 Remee: There wasn't so much music written in 1990 that fit this artist. With my other nutty friends, when we found this song, we ran in circles 200 times, in my home, over my furniture. This is perfect for showing a new side of Lucy.
Lucy: My parents mean a lot to me. They live in Pakistan, where my father works, and have to get up at 2 in the night to watch the show. I still feel they are close.
"Dub Be Good to Me" (Beats International) - 6/10 - Remee provides a rap intro for his act. Gotta be honest, I was so not loving this. I appreciate the effort, after all she was attempting to give us something different, but I'm not entirely convinced it worked. I mean, it would've, had Lucy not sounded so awful. She was terribly off key, basically the whole time. The one part I liked was the "Tom's Dinner" bits. That was lovely.
As a surprise the song is kicked off with Remee rapping. "Jam hot — Lucy." Is she a bit off-key? But that goes well with the style. I would play the bass part differently (if I could).
Lina: This was one of my favorites tracks too. You will be kicking yourself, you made some errors. But you are the best singer in the competition.
Blachman: And Remee is the best rapper? Was this arranged? It made me nostalgic. It requires an artistic persuasion to do that, and a self confidence. You can excel in the details, and that's what I want to hear. More, more, more. But you were sick, etc. You did really fine.
Remee: Last week we heard how you spoke after "London Calling", and you sounded like that for five days. It was lovely to hear your voice in something humorous and light. Look forward to the next song.
Harlou: We are so near the finale now. Do you feel the pressure?
Lucy: Yes…
Round 2
Pernille Nordtorp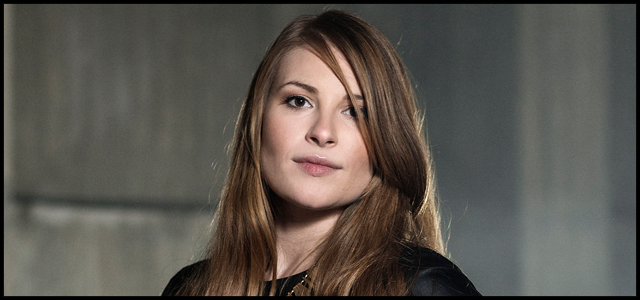 Pernille: My run on the show has been rather turbulent. But I'm a fighter, I get knocked down, and then I get up again. It is a surrealistic thought: Either you're in the finale, or you're out.
"Habits" (Tove Lo) - 8,5/10 - LOVE this song. I've basically been listening to it on repeat for a few days now. Pernille did indeed an awesome job with it. She obviously doesn't have Tove's thin voice yet the grit and rasp in her voice made a perfect fit for the song's message. I bow to Pernille, such an amazing performer. It'd be a shame not getting a record from her.
Pernille sings "Habits", a song about trying (in vain) to numb the pain of a broken relationship.
Blachman: You are a chameleon. You can solve most tasks, for instance, use a different pronunciation, a flat dialect. Verse one was not quite right, but the other was exactly right. It is frustrating that your style has not been straight. There is a bit of JamBand still. I am missing the artist.
Lina: I agree with Thomas, I thought: "Oh, you are nervous today." But then you found comfort in the track and with the mirror, and reduced backing. Then you found your strength, your tone, your power, and you were present. I loved the fire. It is impressive that you can carry it, and that you do not drown in all this.
Remee: Apparently you have to work harder than some other contestants. We have seen two of your best artistic performances tonight. You have the… balls to pick an unknown song like this one. It's very show-offy.
Henriette Haubjerg
Henriette: On bootcamp, when I had to sing with paint in my face, that was rather foreign. But I don't think I had any idea of all the things one has to consider for a live show. I am hoping that I will be in the final 3.
"I Follow Rivers" (Lykke Li) - 7/10 - Ok, this was not better. I much preferred her on the first tune, she felt more comfortable and energetic. This performance was kinda languid, though it had it's very good vocal moments. Same indie electronic style, so that's at least working. I'd love to see how she pictures one of her records. Bet I'm impressed.

The song starts with a man whistling. I like the solo guitar, not so much the rhythm guitar. At the end Henriette looks into the camera, but then she breaks the contact A LITTLE TOO SOON to look at Lina, probably seeking appreciation from her. NO! Sing to the audience (and the viewers), and not to Lina! (The rest was good!)
Remee: You were concentrated on making an artistic performance. This was your best arrangement yet. Very pleasant. Difficult to do for someone at your age, somehow. I saw how proud you were, and you can be proud.
Blachman: That is the point of your life, the joy and sweetness. One-to-one with the world. We feel that. A story about a young life. Lykke Li is fantastic. And we saw a new kind of fragility. A personality worthy of a finale.
Lina: Not just your personality … Also your performance. You have so many strings to play on, and you are starting to play them.
Blachman: But that's what I am saying, there is a connectedness between the singer and the music. I didn't say Pernille…
They all laugh because Blachman got the name wrong, and then Harlou almost repeats the mistake, saying Pernille.
Lucy Mardou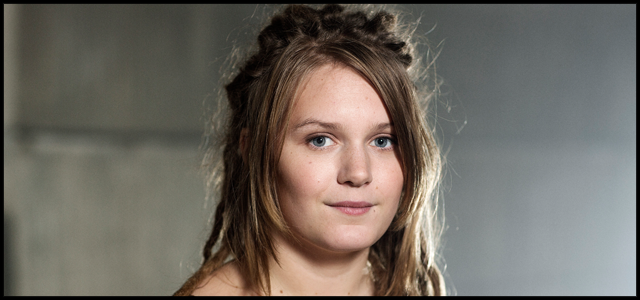 Lucy: Six months ago in Thy I didn't know what XF was. I am grateful for what I have learned, but it would be so great to be in the finale. Somehow that is the dream.
"Soon We'll Be Found" (Sia) - 9/10 - This was beautifully done. It was simple yet powerful and it managed to showcase Lucy's talent, even when I could hear the coarseness in her voice a few times. Yeah, her pitch had issues but she's such a pure performer. The final needs her.
They selected another waltz. I like that.
Blachman: From the first moment we knew you were a natural talent. A live talent. I want to hear you live. You should be on stage for two and a half hours, and cover all possible mental states. Because you have it all, your personality. I want more. More of the real thing. And it's better and better. It's a little bit overdone here, a little bit big, too much, but I suppose the ballad must come in the finale, dammit?
Lina: Even when you are shaky, you still manage to pull it off. You have to be grounded, barefoot. As Remee said: We are seeking someone who comes with the answer. And you have the clearest answer ever. They can make fantastic records with you.
Remee: You carry so much on your shoulders, all the expectations. This was your absolutely best performance. But it was the one you felt most insecure about because you had a tough week. But you ARE the answer, you are XF.
Anthony Jasmin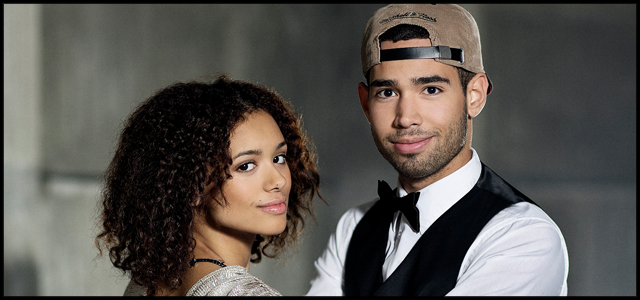 Anthony
: So much has happened since bootcamp. We have gotten to know each other, and we can feel that on the stage. It means so much for us to get to the finale,…
Anthony & Jasmin
: We want that so much.
"Hey Love" (Quadron)
- 7,5/10 -
Not as strong and exciting as what they did before but it was definitely a competent performance. The vocals were good, albeit flat during the chorus, and their stage presence is relaxed and entertaining. They could do very well outside this competition.
Anthony has the stronger vocals today. This song is very different from the first one. Anthony also hints at some salsa moves, or whatever it is. It makes me wonder if that is from the choreographer, but I think he brought that with him. Yeah, feel free.
Lina
: A little bit of everything today. When you are good, you are fantastic. But how do other performers sound out there? You are fine. Most performers out there sing like shit, I hear all of them. So this was fine. Not your best today, but I believe you.
Remee
: Somehow you have to find where it bites the best. And I think maybe it is somewhere between your two performances today. Where there is some edge, but also some sweetness. You will be in the finale, perhaps you will win. So it's with love, I like you very much.
Blachman
: We can see how this story ends. A fantastic run. We can feel it. You can make a record. Well, Lucy can make a record too, certainly. But it is so clear, we can feel it immediately.
Pernille Nordtorp
Anthony Jasmin
Lucy Mardou
Henriette Haubjerg
Last year's winner, Chresten, performs a song from his new album which is released today. I like it.
Harlou
: How was it to be back on this stage?
Chresten
: I missed it a bit.
Harlou
: What have you done in the past year?
Chresten
: I had time to go away. It was probably good for me.
Eliminated:
I'm infuriated by this. What's worse is that I genuinely like the Top 3, so I can't be really angry at the results. Yeah, Pernille deserved the win and I would've taken her over Henriette to the final but I can't say Henriette didn't deserve to be there. At least Pernille went home on a high, it's beyond me why the public wasn't able to connect with such a phenomenal artist.
Coming into the final, I'd say Henriette will finish third, Anthony Jasmin second and Lucy first, as I predicted prior to the live shows.
Harlou
: What is going through your head now?
Pernille
: I am thinking "Thank you". And I know Steffen (Gilmartin) is waiting in the rehearsal room Monday. I will play a lot with him and the band. Now there is one in each category, I guess.
They show highlights from her competition. My favorite song is probably "Ridset I Panden" ("The scratch in your forehead").
Remee
: There is one in each category. That makes sense, I guess. But we lost one of the best competitors. It's great when competitors can leave on their very best performance. Both of yours today were some of the best. So I don't understand the viewer's choice, but I respect it.
Pernille
: Thanks again. And those people sitting in the sofa are so good, they all deserve to be in the finale. Thanks to Remee for being able to see me.
Harlou
: So, now you have to sing again?
Pernille
: What will I sing?
Harlou
: We'll figure it out. Go out and get ready. Blachman, you brought a group to the finale. Are you happy?
Blachman
: I am happy. The popularity index said they would be the first to go. But they worked so hard. Not in the beginning, but they have learned.
Lina
: Henriette worked hard. We worked on accepting that tonight might be the final day. Henriette was up until half past midnight, singing. For the first time I saw a tear in her eye when she continued.
Harlou
: Remee, was that the field you expected when the live shows started?
Remee
: They are the strongest representatives in each category. I guess there is some kind of poetic justice.
Pernille sings even better than the first time. So was it right to let her go this time? I don't know if Pernille is better than Henriette, but I feel none of them is better than Lucy or Anthony Jasmin. Either of them may be a better singer than Jasmin, but that's not what it's about.
I expect Henriette to go as the first in the finale (she was twice in the B2), and after that I really don't know what to be hoping for. As Blachman said, with Anthony Jasmin it is so clear, a blind man can feel it with his cane. Fix a stamp on them, send them around the world, then they will come back a success. But Lucy, the hippy, is unique. So what do you want, Bong, a commercial product or an unique artist?
The unique artist, always. What would happen if Anthony Jasmin suddenly disappeared? Someone else would come along and fill their place. But if Lucy disappeared, something would be lost forever.
I also think Lucy will be the ultimate winner, but I could be wrong. And I certainly like Anthony Jasmin enough to buy their music and watch their concerts.