I'm currently looking for some new writers in order to expand the blog given that I can't post the amount of things I'd like to. So if you are interested in writing about anything related to music (news, TV shows, album reviews, introducing artists) just drop me an
email to musicisthedoor@gmail.com
and we can discuss some of your ideas.

With the Battle Rounds starting, the 32 singers will be down to 16 for the liveshows. Same team members will face each other singing the same song as a duet and only one of them will survive. So, who will it be?
My predictions after the JUMP ...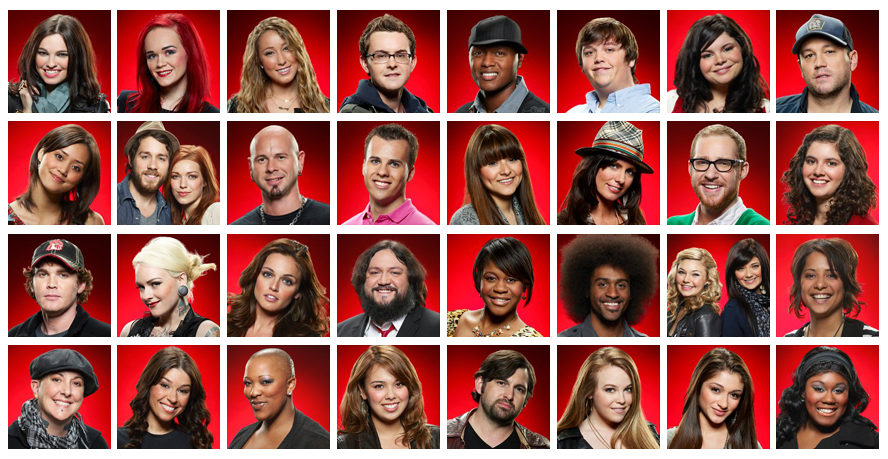 (Gold battles are confirmed)
TEAM CHRISTINA
Tarralyn Ramsey vs Frenchie Davis = Frenchie Davis
Beverly McClellan vs Justin Grennan = Beverley McClellan
Lily Elise vs Cherie Oakley = Lily Elise
Raquel Castro vs Julia Eason =
Raquel Castro
TEAM ADAM
Casey Desmond vs Jeff Jenkins = Jeff Jenkins
Rebecca Loebe vs Devon Barley = Devon Barley
Javier Colon vs Angela Wolff = Javier Colon
Tim Mahoney vs Casey Weston = Casey Weston
TEAM BLAKE
Patrick Thomas vs Tyler Robinson = Patrick Thomas
Xenia vs Sara Oromchi = Xenia
Jared Blake vs Elenowen = Jared Blake
Dia Frampton vs Serabee = Dia Frampton
TEAM CEE LO
Vicci Martinez vs Niki Dawson = Vicci Martinez
Tje Austin vs Nakia = Nakia
Curtis Grimes vs Emily Valentine =
Curtis Grimes
Tori and Taylor vs Kelsey Rey = Kelsey Rey