I'm currently looking for some new writers in order to expand the blog given that I can't post the amount of things I'd like to. So if you are interested in writing about anything related to music (news, TV shows, album reviews, introducing artists) just drop me an
email to musicisthedoor@gmail.com
and we can discuss some of your ideas.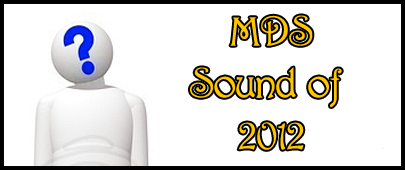 This is definitely my fave section. I love to do this. In case you're not familiar, the MDS Sound of ... focuses on trying to find the
most promising acts for the coming year
. Those
acts should not have any album released by November 2011
. The BBC poll, the original one, doesn't allow any top 20 singles either but they are eligible for this poll,
Idol/X Factor contestants aren't elegible
. Any country, any genre allowed, though my choices are always indie/folkish. Haha. Yes, I know it's too early for this. But hey, why wait?? I usually start choosing them on November, so I've 4 months to do so. But I want to see who do you think is the most promising act! So below this,
you'll find a poll where you can add your own picks
. Remember the guideline and that they should be due to release something, an album preferibly in the next year.
You would be able to vote for other people picks, so check before adding a new one if that artist isn't already in the poll. And try not picking any of last year's acts either.
(Last year poll
HERE
) Remember you can only vote once, so choose wisely.
Poll after the JUMP. Who's excited?!
READ THIS BEFORE VOTING: I think some things have not been clear enough. You CAN'T nominate Idol/XF contestants. They are not elegible. Second, you can make your own submissions where it says "Other". Just enter the name of the artist you want to nominate. And finally, it doesn't matter who wins this poll! The objective is seeing who do you want to see on the real poll, so maybe the winner and the last act are in the poll.