I'm currently looking for some new writers in order to expand the blog given that I can't post the amount of things I'd like to. So if you are interested in writing about anything related to music (news, TV shows, album reviews, introducing artists) just drop me an
email to musicisthedoor@gmail.com
and we can discuss some of your ideas.

More great news for the XF Au! Not only they were #1 in the ratings with their second episode but thier audience also raised! 1,6 million viewers! And you know, I gave that to the judges. They are doing an incredible job this year and it's much more entertaining than the previous season. And the talent isn't too shabby either! One more audition this week, and let's get this one going ... It's time to face the music!
Recap and videos after the JUMP ...
First contestant of the night ...
Sam Trenwith
(17), major fan of Cher, who invited him and his family to America for a show when young. The Spice Girls were an inspiration. His fave Spice? Mel B! No kidding! Haha. It was Geri. Oh, where did that masculine voice came from? I expected something more, girlish? This is good, a bit soulful, but still really meh. No, liveshow potential here. Still, he gets 4 yeses. -
VIDEO
(Site)
Jacqui Newland
(22), who performs in a cover band wants to make it in the music bussiness, as everyone who auditions for this show. She's singing AC/DC's "Higway to Hell"! "Well, I didn't expect that" tells Nat. OMG! It's amazing! Probably the girl with the most potential I've seen this far. And I really like her voice, it's not that generic type of big voice, I'm looking at Sally Chatfield, this girl is unique and her range is huge. Love. -
VIDEO
And the girls category is finally seeing some light!
Chantelle Morrell
belts out "California King Bed" and kinda nails it. Followed by beautiful
Sophie Metcalfe
, who's quirky shy voice shines on stage. I like her more than Jacqui actually. Finally we see
Amy Walton
, who performs ala Pink in a great way. -
VIDEO
(Only Sophie)
Now the groups also shine. Sista Soul, three blonde girls with a swaggerish pop voice, Utai 3, three brothers with smooth voices but a bit boring, and Audio Vixen, three siblings, who impress with their big vocals, though it was a bit messy.
Following them, is yet another group,
Majestic
, a mother daughter duo, mother Niki is a professional, daughter Jazz just another wannabe. Turns out that the Niki is great and Jazz sucks, badly. It's a really wierd audition. Their voices don't blend togehter, at all. Look, the judges want to split them! Niki is sent to bootcamp, daughter is left crying. Right decision. -
VIDEO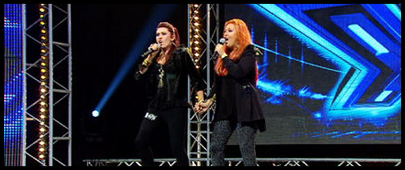 Natalie Colavito
(24) is next. She's an Australian Idol S6 Top 24 finalist who has lost 45 kg since her appearence on the show, looking great now. Her audition is, not what I was expecting. It's really intense and dinamic. Her vocals are great though. I liked that though I wouldn't have picked that song. I don't know, it sounded strange. Judges loved her still, and she's sent to bootcamp! -
VIDEO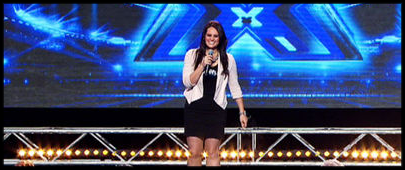 Repeaters? Why not! First up,
Janelle Mikulic
(27), who's voice sounds completely off and shaky, so she's sent home. Next are
Corey and Jodi
, who perform a really bad messy audition.
Michael Eifler
(20), who's voice is as bad as it can get. "Thank god I am here in this panel, cause I'd never put you through last year. It made me want to say no, no, no, no, no" says Mel. Last repeater is
Trent Bell
(20) who was a fave of mine last year. His voice is still great but his dancing is all over the place, I'd tone it down a notch but vocally, kinda great. Judges love it too so he's sent to bootcamp. -
VIDEO
Final auditionee is
Luke O'Dell
(18), who looks hedious with that purple hair and that leather jacket. Titanic made him want to be a singer. He's singing Kelly Clarkson and it sucks, as expected. Big joke of the night? Definitely. He thinks it went pretty good. "It didn't Luke, ... it was just scary at times" says Ronan. He has another song he wrote, "Introvert Extrovert" and it's as bad as you can imagine. "Introvert extrovert doesn't matter" it's basically what the whole song is says. Ok, go home now and try not to sing again. -
VIDEO