I'm currently looking for some new writers in order to expand the blog given that I can't post the amount of things I'd like to. So if you are interested in writing about anything related to music (news, TV shows, album reviews, introducing artists) just drop me an
email to musicisthedoor@gmail.com
and we can discuss some of your ideas.

With a great premiere last night which topped the ratings in Australia with 1,3 million viewers, the XF is airing it's second set of auditions of four, with two more episodes airing on Wednesday and on Thursday. The judges proved to be a perfect match and the talent was good enough. Will tonight's bunch of hopefuls keep delevering strong performances? ... It's time to face the music!
Recap and videos after the JUMP ...
XF is back at Melbourne and the judges make an exagerated entrance in helicopters ala XF UK way. A little something of what the judges are looking for, blah, blah, blah. And the first audition is here ...
Lyrical Styles
, a duo really similar to Lazy G and Big Guy from last year. This guys don't even know who the judges are. Natalie Imbruglia and Mel C are in the panel says one of the guys. You are clueless man. Haha. "Sunday Morning" starts playing and this is a nice surprise! This is quite unique and funny. Cory has a great smooth soulish voice, while the other does this crazy rapping and beatbox sounds, all while Cory wierdly dances. No need to vote, straight to bootcamp! -
VIDEO
(Site)
A montage full of crap, as Mel makes sure to tell the hopefuls. "Boring, boring, boring", she says. "Sing by yourself, with nobody around". Hoping to turn her around, is
Medina Begic
, a 14 y/o country girl with some cool big glasses. Yeah, big glasses can be cool. She's singing the huge "The Power of Love", and she looks absolutely petrified. Fortunately she starts improving as the song goes by, hitting some big notes up there. I kinda like this girl, plus she's sort of adorable too. Haha. 4 yeses. -
VIDEO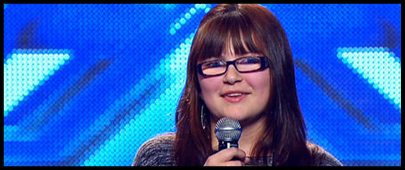 We are reminded how the teens suck, oh, I mean, that they can sing. Not really. They are not ready for this and their voices aren't developed yet. And although there are some exceptions, the majority of them aren't good at all. As we see next. Naomi Sequeira (16) who looks like if shes 12 performs a screachy song, and she's sent through. Max Silk (14) is next and this kid looks like a major cocky bully. And his voice isn't good at all. Liz Conde (14), probably the only good voice in that montage, nails "Halo" and gets major love for the judges.
Sydney now.
David McCallum
, 41 y/o father of two kids who owns a cleaning bussines hopes to finally get his chance in the music business. He's look is kinda wierd, conisdering he's a father. His got a good voice, very rock indeed. And shouty. His not bad at all but I spotted him looking at his hand many times, as pointed by Ronan. Never do that man, they'll hate that. "It just felt that you were singing for you and your ego" says Mel. He gets three nos, with Nat saying yes. I would have put him through, cause he had a voice but the lyric stuff and his ego ruined it for him. -
VIDEO
(Site)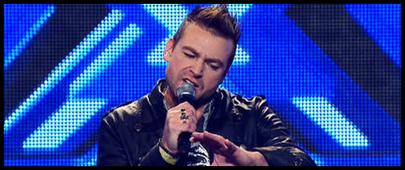 Josh Brookes
(19) has got a lot of swagger. A lot. And he's from the hood! Haha. Love this guy already. He seems lots of fun. He says that singing was one of the habits he developed. One of the good ones I guess. He's singing Usher and surprisingly, he's amazing. Definitely the best I've seen tongiht, probably the best in both episodes. His voice impresses everyone and he gets a standing o. "That was seriously sexy" Mel tells him, "Cheers" he replys. He's got the XF. 4 big yeses. -
VIDEO
Next is Gold Coast brat
Andrea "Storm" Kaden
, who has recorded an album and several covers in YouTube. Her parents have spent a lot of money in her carrer. OMG! She's just 14! I would have sweard she was 20 something. She's singing "Firework" and not impressing at all. She messes up badly with the chorus. Sharp and screachy. She stops, "I fully screwed that up". The judges want a different song from her, she insist she wants to perform that one. She's getting a little rude. Just fucking sing another song! She's singing "The Only Exception" now, and finally proving she really has talent. Judges loved that, so she's through. -
VIDEO
Final audition of the day, 30 y/o school teacher
Pamela Cook
. She's now a stay at home mum for the past year. She was also diagnosed with breast cancer, while pregnant, last year. The doctors wanted to terminate the pregnancy, but she decided to continue with it cause she had already lost a baby. They had to take it earlier and she was then treated. "Yeah, that's why I have boy hair" she says. Nat tells her it looks beautiful. And she does, she really does. The audition starts a little shaky but it gets powerful and emotional really soon. Another favourite from the night. That was a touching audition. Great job. -
VIDEO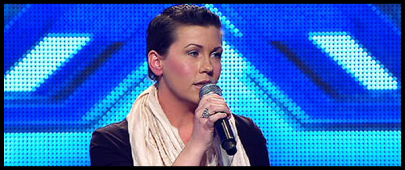 Two nights done and the show is sitll looking great. I'm hoping it does well with the ratings this year. And it looks it will! Tonight talent was far better than the first episode talent. Lyrical Styles, Josh Brookes and Pamela Cook were impressive and I can see them all in the liveshows. Even Andrea and Medina were good despite only having 14. I hope the talent keeps improving, and I'm still loving this new panel!