I'm currently looking for some new writers in order to expand the blog given that I can't post the amount of things I'd like to. So if you are interested in writing about anything related to music (news, TV shows, album reviews, introducing artists) just drop me an
email to musicisthedoor@gmail.com
and we can discuss some of your ideas.

And it's finally here!! I must confess I was feeling lonely without any singing competition to watch. Haha. Glad the XF is back for another great season. Last year we had an amazing amount of talent, with the entire top 5 being signed to labels. Will this year's bunch of hopefuls be able to emulate the success of last year's contestants? I hope so! With a revamped judges panel, with Tulisa Contostavlos, Gary Barlow and Kelly Rowland joining useless Louis Walsh, this series promises to be refreshing and exciting! So, without more chatter ... It's time to face the music! (I missed using that phrase! Haha)
Recap and videos, plus a live feed, after the JUMP ...
A little something of the new judges, an introduction and the XF kicks off! And first up is man whore
Frankie Cocozza (18)
, whose sole purpose of entering this show is getting lots of girls. Well that sounds like a reasonable objective. He also reveals that he has 7 girl names tatooed on his ass. And he didn't only said that, he also showed it on live TV! What a way of being a public joke man! Haha. That was wierd. He's off to sing "Valerie" and it's not completely atrocious. Reminds me, and the judges, to Rod Stewart but much worse. I don't know, I didn't like this much but he can improve, or he can always go and tatoo more names on his bum.
Despite the singing, Frankie gets through and is off to bootcamp. -
VIDEO
Kitty Brucknell
(26)
is next. She says she've had a lot of nos in her life, she's just gonna go for it. She's performing "Edge of Glory" acappella and she's singing her heart out! That girl has pipes! I'm already loving her but I except her to be hated. She's kind of crazy! Haha. Katie Waissel 2.0? Probably, cause that personalty is gonna be really polarizing. Kelly basically tells her to be more humble and not the maniac fame whore that comes across when she starts talking. Still, I'm a fan of crazy, so bring the quirky girl! She gets 4 yeses of course. -
VIDEO
Hailing from Hong Kong, puking songstress
Goldie Cheung
takes the stage. Yes, you heard right, puking songstress. 48 y/o tai chi instructor will perform "Copper Bell" to the surprise of everyone. The song is crazy and very WTF worthy. But still, there's something very entertaining in her, it's like Wagner came back but much better! Oh god! This woman is just fascinating and such fun, I mean, have you seen those moves?? She gets three yeses, with Gary giving her a no. Someone wants the Overs again ... -
VIDEO
Janet Devlin
takes the stage next. The 16 y/o comes from a small cow town in Northern Ireland. The shy teenager reveals that she spends a lot of time in her room writing songs and singing since there's not much to do in her hometown. It's all soft and uninpressing till she opens her mouth and blows everyone away. She's got an unique quirky sound, quiet similar to past XF contestant, Diana Vickers. And all without the crazy hands. She's clearly really nervous but still manages to give us an emotional and haunting performance. This girl is pure beauty. I'm seeing a great carrer ahead ... -
VIDEO
And here comes the quick montage of great contestants!
Roxy Yarnold
(19) wows with her big RnB soulish rendition of "Georgia" (
VIDEO
), followed by group
SOSO Status
, inspired by Destiny's Child, who perform a cool acappella version of Jessie J's "Do It Like a Dude" and all in beautiful harmonies. (
VIDEO
) Closing the montage is
Heshima Thompson
(24) once a background singer of Amy Winehouse who delivers a strong soulful performance with some sick dance moves! (
VIDEO
)
Closing the show is
George Gerasimou
, the only actual waste of space of the night. He is a reject contestant, member of Triple Trouble who slammed the mic after a trainwreck audition. Of course he still sucks. And when judged the guy goes all defensive and starts insulting Tulisa. Get the fuck out of here ... -
VIDEO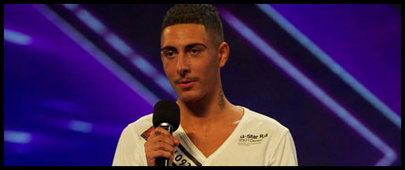 And just like that the show is done! I must say that I actually like this new judges much more than the past ones. Yes, Simon is irreplaceable but this 4 have a great chemistry. The talent pool is still great. Obviously, my faves tonight were Kitty and Janet. Janet especially who's tiny quirky voice could make for a great recording star. What's more, I'm saying now that Janet Devlin will win the XF S8. Yep, I've my money on her.