I'm currently looking for some new writers in order to expand the blog given that I can't post the amount of things I'd like to. So if you are interested in writing about anything related to music (news, TV shows, album reviews, introducing artists) just drop me an
email to musicisthedoor@gmail.com
and we can discuss some of your ideas.

Idol rises from the ashes. After being replaced by The X Factor Sweden last year, which was not only a ratings flop but an overall disappointment, the show that brought us Loreen, Darin, Danny Saucedo, Agnes, Linnea Henriksson, Amanda Fondell, Robin Stjernberg and multiple others is back for another round. Will we find a new star this time?
Recap after the JUMP ...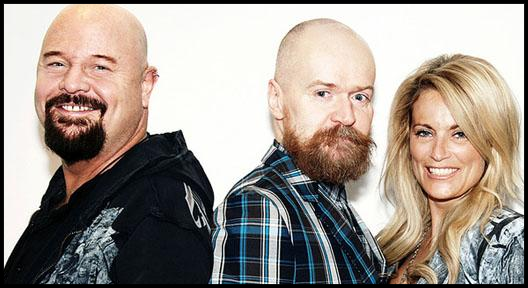 You can watch the full episode HERE

Not much has changed, Anders Bagge, Laila Bagge Wahlgren and Alexander Bard are all returning to their seats with Pär Lernström also in as our host. Pelle Lidell is, however, not coming back to the series.

The auditions begin in Sundsvall, will we find Amanda Fondell's successor here?

(I'm using Google Translate for all that's said, so bare with me and please correct me if something is wrong)


Matilda Melin

(16) - "The Way I Am" -

Matilda's got a flower arrangement on her head, it actually looks really pretty. She's been singing all her life. When she was younger, her father used to put on discs in the kitchen. She loved it. "T

his is what

I

was born to

do" she says prior to her audition. The cover is really good, it needs polishing but there's a lot of potential. I like her tone a lot, it's indie but at the same time it's got a certain edge. It's really interesting. All yeses for her.
Sebastian Gustavsson

(24)

- He's an alarm technician.

He's

always

been involved in

crafts

.

When he

was 6 years old

, he used to help his dad, who was a paver

. He's never played for crowds before but did play for workers in Northern Sweden before.

He's a lot better than I expected. His tone is beautiful, very smooth with a pleasant raspiness, perfect for this acoustic-like performances. Plus he's easy on the eyes, what else could you ask for?
Bolivia Protopapa

(21) - "Love On Top"

- She's

always liked to

perform.

She started singing when she was in h

igh school

. Back then, she looked really different, she had glasses, braces and was a giant nerd, resulting in a lack of confidence. She feels ready now. "

I want to say

thanks to those who

bullied

me

because I'm

here

today" she says. She does pretty good with this big RnB song. I think she could have done better with something different but there's potential, she's definitely a good singer. Alexander asks her to sing something different. She delivers a really interesting cover of "RIP", which all the judges agree is much better. She's ecstatic. Laila thinks she could do great with "Papa Don't Preach". Mmm.

Elin Bergman

(17) - "Spoiled" -

She's a rapper. Pär asks her what her stage name is, turns out she has none. He then proceeds to dub her EJB, after her initials. Her rapping is cool, her singing even better. It's super quirky, which caught me by surprise. If she can successfully combine both, she could be something very special. Laila suggests exactly this, combining both styles.
Jonathan Strömberg

(22) - "Vart jag än går" -

He works in the forest, cutting trees. He says it's very peaceful but there's not much of an audience to hear his music. He's been playing instruments since little but only started singing a while ago. Making it through to the next round would mean he could pursue his ultimate dream. A very nice audition, interesting at least. Anders sings with him throughout the performance, making for some cool background vocals. He may be a bit generic though I'll reserve my judgment. Alexander didn't like it at all, refusing to shake hands with him after he got two yeses from the other judges. Guess he'll have to prove him wrong during the next round ...
Kevin Walker

(23) - "Soldier" -

He's a professional football player who plays in

GIF

Sundsvall.

His father was a football player himself. Kevin started playing music when he was young. While he was living in Ireland, his grandfather used to sing and that prompted Kevin to start singing as well. I really enjoyed this Gavin DeGraw cover, I didn't feel he was a 100% committed but I'm looking forward to seeing him again. His tone is really gorgeous and if he's a little more energetic, he'll be perfect.