I'm currently looking for some new writers in order to expand the blog given that I can't post the amount of things I'd like to. So if you are interested in writing about anything related to music (news, TV shows, album reviews, introducing artists) just drop me an
email to musicisthedoor@gmail.com
and we can discuss some of your ideas.


While most contestants still keep disappointing us, some early favourites Anna Wilson, Benny Tipene and Jackie Thomas starting to step up to the challenge. Last week, Taye Williams left the competition, news to which Stan didn't react well. The Top 11 will now take on the best of British music and looking at this set list, I expect most of them to bomb. Shall we start?
Recap and videos after the jump ...
Whenua Patuwai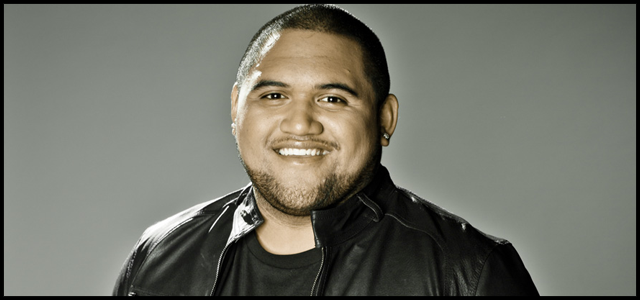 "Somebody to Love" - 7/10
- He thinks he's not giving it his all cause he's scared of failing. He wants to get over it. Ruby tells him he's got to tell that voice inside his head to piss off, "that voice doesn't deserve to be there". He didn't know who The Beatles were. Ugh. He just lost all my respect, you want to be a singer and you don't know who The Beatles were? He probably doesn't know who Queen were either, since if he had known, he wouldn't have taken on this song. Queen is untouchable. Whenua is the kind of singer who doesn't totally ruins it yet fells short form nailing it. He's got big pipes yet not big enough for this song and while he was mostly on pitchy, I wanted him to go higher most of the performance. I still don't see his soul, he's not giving it his all. "Welcome to the XF, finally. I knew you had it in you and I think you found it" (Mel) -
VIDEO
Moorhouse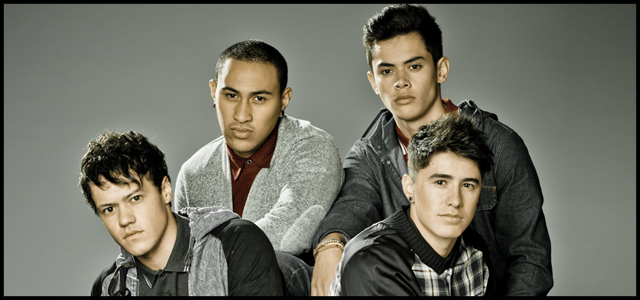 "Every Breath You Take" - 4/10
-
From left to right:
Rory, Jason, Marley and Brock - Mel wants everyone to like them and respect them. They will be slowing it down and showing off their vocals this week. They want to prove their haters they can actually sing. What a way to bomb! If this is the best they can do to convert the haters, they better stop trying. The vocals were incredibly weak and for the most part, the band was drowning them. The arrangement was also hideous. The vocals were slowed down but not the music track and it made for a weird sounding cover. Their harmonies were awful as well. I don't care what the judges said, those were some hideous vocals to me. "I think that's the best job you did with connecting to the crowd since you guys did your audition. It sounded like you had a great blend, your voices sounded in tune and they sounded pretty nice today guys. I'm really happy" (Daniel) -
VIDEO
Cassie Henderson
"Unwritten" - 5,5/10
- She's doing a song by Daniel's sister. Cassie has a Skype session with Natasha. She thinks it's cool Cassie is doing her song and she's glad Daniel gets to be her mentor. "He's actually the whole reason I got into music, he knows what he's talking about" she says. She made a step in the right direction last week, this is another one. Her potential is undeniable but at this point, she's still so underbaked that I'm not confident her time in the competition will be enough to fully polish her. This is a case in which waiting a few years would've been better. Her pitch was all over the place but even if her singing was awful, Cassie is a captivating performer. Like Danielle Bradbery on The Voice US, she just owns the stage in the most natural way. But her vocals need work, a lot of it. "It's pretty obvious that the crowd loves you, the people love you at home, every time I read something everyone loves you and I think that you're gonna go very far in this competition and saying that, there's a few little edges that we need to smoothen up. I thought this was the right song choice, it was slightly pitchy, your rehearsal was much better, but you are amazing and I think the people will still commit" (Stan) Mel gives her the same advice I gave last week, just stand there and sing a song. -
VIDEO
Fletcher Mills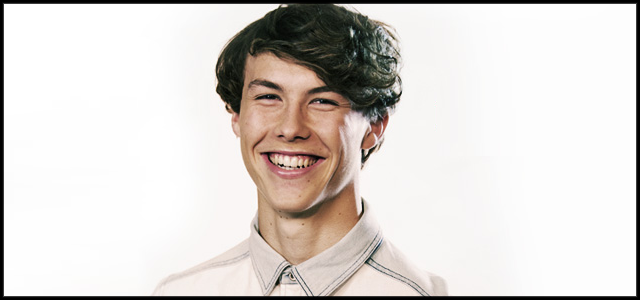 "Your Song" - 7,5/10
- Mel was extra hard with him last week. Also, people were giving a really hard time online. Ruby orders him not to go online this week. She will do anything possible to make sure he's prepared for this one. This is a great pick for Fletcher and exactly the type of performance he should've done before. It's obvious he has sang this a few times before. This is the best he has performed in ages, his voice was on tune and his gorgeous tone was able to shine. The song is overdone but given how much Fletcher has been sucking lately, I'm glad he was given this song. Welcome back to the competition! "That was much better but, saying that, being much better but not very good at all still only takes you half way there. I feel for you and I don't know what I would do if I were you. So now you can sing in tune, that's good, but the next thing to do is to find your fire again and find your confidence again" (Mel) -
VIDEO
Gap5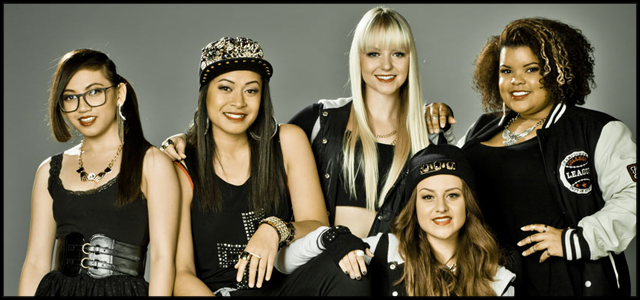 "Pure Shores" - 7,5/10
-
From left to right:
Nica, Taiva, Alexandra, Hannah-Jane and Nicole - Mel thinks it'll be interesting if they did an All Saints song. "Are we gonna be that girl band that does girl band songs?" Nicole asks. "Yes". "Really not narcissism, I swear" Mel says. They are hoping to capture the same magic All Saints did. Their harmonies are really tight tonight, honestly, this is the best they've sound. The dancing was silly and the song was probably wrong for them but given how awful the past picks have been, this is a warm welcome. Their individual vocals were great and while not as cool as they should be, the singing was pretty terrific. "I actually love you guys. I get more and more impressed with you every single week. I thought that was quite an interesting song choice but it really worked, like it showed how versatile you guys can be. And I don't know about the energy because that just looked really effortless to me" (Ruby) -
VIDEO
Tom Batchelor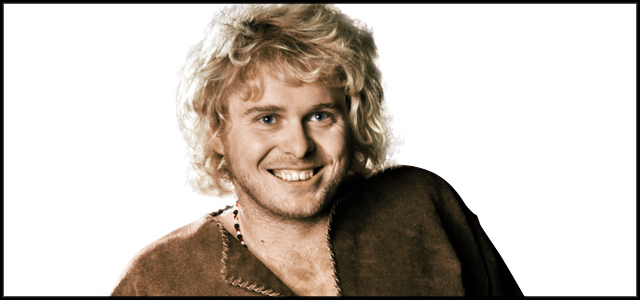 "Come Together" - 7/10
- Ruby says she's always supported Tom, from the start of the competition since she saw so much potential and spark in him, however, she was really disappointed with last week's performance. She tells him he was fumbling some of the words and that he keeps singing the wrong melody in the choruses and that it showed a lack of preparation to her. He reassures us he takes music really seriously. This is an interesting pick. I still haven't figured him out as an artist and this performance didn't help me find it either but it was probably his best vocal, or at least the one in which he seemed to have put more effort. I would'be added a mic stand, he would have rocked that, but I guess it's better to see him move around the stage as if he was drunk. My problem with him it that he looks lazy on stage, like if he's not giving it all he has. Good job though, entertaining at least. "That's the first time I've seen you be emotionally vulnerable at all. If you would have take that emotional vulnerability and pull it out, sing from that heart, the whole time in every song, I think you'd sound very different than anything we've heard you sing in the competition. I actually really didn't hate that at all" (Daniel) -
VIDEO
Māka Fiso
"The Scientist" - 7,5/10
- Stan tells him this week they are gonna do something different. He wants people to see that he's more than just an amazing singer. "People think that they've seen the best of you but the best is yet to come" Stan says. Stan should have given him a more unusual song. We've seen this covered million of times already. That said, this is a pretty performance, his voice cracked a few times but he actually showed an emotional connection with it and delivered some killer notes at the very end. He needs to be more interesting than this though or he'll never win. "Nice job. What I love about all of your performances is that you always finish so strong. My only thing for you would be starting off as strong emotionally as your ending" (Ruby) -
VIDEO
L.O.V.E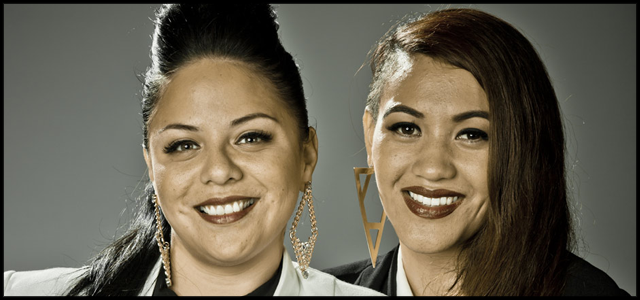 "Pass Out" - 8/10
- Taye had to comfort them last week after he was eliminated. The girls didn't expect to stay after their disastrous performance. "There's no better way to pick yourself up than to really be on the floor dead, the only way is up" Mel says. I thought this was the week they were finally going home but after this it'd be a crime to eliminate this girls. They brought it their all, they literally poured their hearts into that performance and their energy was sky high. Most importantly, they rapped for most of the performance, no silly singing for them, they finally got to show how cool they can be. That was incredibly fun to watch, they deserve another week. "You came back like fire. Like fierce fire. I'm proud of you girls, I'm so glad that you actually stuck around. It's not how many times you fall but how many times you keep getting back up and that's what you did. I loved it, you've got swag" (Stan) -
VIDEO
Jackie Thomas
"Dreams" - 8/10
- Jackie chose the song. She has listened to them since she was young, it's one of her favourite songs ever. She's good friends with Tom, we seem them looking through some vinyl disks. She thinks it's a moodier performance than last week. Another beautiful performance for Jackie, I'm loving what this competition is doing for her. She already looks a lot more confident and her voice keeps getting better and better. The vocals weren't as perfect as they were last week but the song choice managed to showcase her unique tone to perfection. My favourite so far. She knows what she's doing and I'm glad Daniel is letting her. "Your voice, seriously is like, it does something to me. I'm so jealous of your blooming voice. That thing that Stevie Nicks' got, I think you've got that too and I hope you come fourth in this competition but I love you so so much, I think you are an incredible artist. I can't wait to buy your album" (Mel) -
VIDEO
Benny Tipene
"This Charming Man" - 8,5/10
- Ruby wants him not to play the guitar at all this week. He shows us some of his hilarious moves. He finds this incredibly awkward and embarrassing. "NZ is probably in for a little bit of a treat, that's probably not a huge treat" he says. He moves almost as awkwardly as Tom does, it's pretty funny actually. That choreographer told him they'd stop him when he started looking silly, yet he just did that. That aside, he's probably my favourite in the competition. He's a terrific vocalist and an engaging performer, Stan was right last week, he could be an international star. I was unsure about this song but he actually got it right tonight, his tone is awesome on this. Best performance of the night? Definitely. "It pains me to say, not really cause I'm proud of you, I think you could actually win this show. Key word, could. I just love how you embrace every genre and you make it completely your own. You are bigger than this and I think you're gonna soar" (Stan) -
VIDEO
Anna Wilson
"Mama Do (Uh Oh, Uh Oh)" - 8/10
- After last week's performance, she thought she was gonna be in the B2. Anna warns us we'll be seeing a little bit more of her wild side this time. She's excited since she's gonna have a bunch of dancers. A radical change for Anna, there are almost no comparison points between this girl and the one we saw last week. I like the transformation though,, plus that was one hot performance! Stan picked a perfect song for her to show us this side, it works with her tone and it also fits this sexy theme she's got going on tonight. I didn't like the dancing much but her vocal performance was great. Anna keeps getting better, she could be a dark horse in this competition, a very hot dark horse. "I really liked that because I thought it was a lot more memorable than your performance last week, it all came together, it was really strong, I loved your feisty attitude when you were performing" (Ruby) -
VIDEO
Rankings
Benny Tipene
Jackie Thomas
Anna Wilson
L.O.V.E
Fletcher Mills
Gap5
Māka Fiso
Whenua Patuwai
Tom Batchelor
Cassie Henderson
Moorhouse
B2 Prediction:
Whenua Patuwai
L.O.V.E
Should go home:
Moorhouse
Results
Bottom 2:
L.O.V.E
Moorhouse
L.O.V.E

- "No Scrubs"

- One of them is playing guitar, it's not something we've seen before. It's a softer performance, yet full of swag. I've got to say this is the best they've sounded ever. Why couldn't they do this yesterday? It's really impressive, they proved why they deserve a place in the competition but going against judges fave Moorhouse, I doubt they'll survive. They'll leave the show on a high note though. -

VIDEO
Moorhouse

- "With or Without you"

- They aren't fully back to form but this was a step in the right direction. Their vocals sounded really good here and their harmonies were quite surprising. Brock and Marley were the most impressive, while Rory was a huge disappointment. That said, L.O.V.E's performance was much more interesting, this was not cool, it was very boy band sounding. -

VIDEO
"First of all, I want to say that both of you have been amazing to work with. I failed you someway tonight, I'm sorry if I did. Saying that, I think both of you could be successful beyond the XF, there's also no way in hell, I'd ever vote one of my acts home, so I'm not voting tonight, no way." (Mel)
"I've to be honest. I don't think that either one of you would've been in the B2 tonight. Girls, tonight you just showed that you were supposed to be in this competition, last night you showed why you are supposed to be in this competition and I'm proud of you both of coming back with such a fight and with joy. Boys, you fellas are awesome. This girls that supposedly love you need to vote. I thought you did an amazing job last night, you still got so much more to give. The act that I'm sending home tonight is the act that I know that still got a lot of fight in them, I'm gonna send L.O.V.E home" (Stan)
"L.O.V.E, you've credibility. You dress amazingly, you are hilarious. Whatever happens now I believe in you, if you stay great, if you leave this is exposure. Moorhouse, if you make it through, we need to hear that. With lots of love in my heart, the act that I'm sending home is L.O.V.E" (Daniel)
Eliminated:
L.O.V.E
What a shame! Mel gave them awful songs the first two weeks but they completely delivered last night with that awesome cover. To me, they were much more interesting than Moorhouse but unfortunately, the show is trying to turn them into their own OneDirection. I expect them to leave the competition in a few weeks, maybe they can make it up to Top 7, no more.
This entry was posted on 11:49 PM, and is filed under
Anna Wilson, Benny Tipene, Cassie Henderson, Fletcher Mills, Gap5, Jackie Thomas, L.O.V.E, Māka Fiso, Moorhouse, Tom Batchelor, TV, Whenua Patuwai, X Factor NZ, XF Series
. Follow any responses to this post through
RSS
. You can
leave a response
, or trackback from your own site.