I'm currently looking for some new writers in order to expand the blog given that I can't post the amount of things I'd like to. So if you are interested in writing about anything related to music (news, TV shows, album reviews, introducing artists) just drop me an
email to musicisthedoor@gmail.com
and we can discuss some of your ideas.


Frontrunners were sent packing last week when Lakyn Heperi and Brittany Cairns, along with Prinnie Stevens and Adam Martin were sent packing. Tonight it's the semi-final, where the final 8 will compete for a place in next week's big final. The coaches will be picking their finalist at the end of the night so it's all about impressing them now. Who'll make it to the big final? ... This is The Voice!
Recap after the JUMP ...
Team Seal
Fatai Veamatahau
"On the Radio" (Donna Summer) - 8/10 - "I think anyone would be absolutely terrified to go up against Karise" True story, especially considering this song choice. Seal wants Fatai to get lost into the song, something she was struggling to do during rehersals. "I'm the underdog and I'm the one that's gonna have to bring it a 110% and more" Her odds definitely shortened since last week but the truth is that it's impossible to beat Karise at this point. Cool upbeat performance, Fatai definitely brought it and it showed she was enjoying it. There's a big carrer waiting for her but lets face it, she's going home no matter what.
Karise Eden

"Hallelujah" (Leonard Cohen) - 10/10 - What is a singing competition without the classical "Hallelujah" cover? I feel let down by Seal, he's been doing a fantastic job in picking songs and now he's chosen this awful overdone track. That said if there's someone in this world who could sing this song and not bore me, it's Karise. "This has the potential to be a flawless performance, a legendary performance" (Seal) Seal was totally right, this performance is absolutley stunning, flawless indeed. Karise's got a powerful and believable quality, people was shown crying while she reharsed and she didn't understood why. That's because she's able to connect with the public and that's a quality an artist needs to have. Joel comment was spot on, as myself, he didn't want another version of "Hallelujah" but this version was perfect. Karise, that was your moment.

"Heaven" (Bryan Adams) - 8,5/10 - "We've to go into this like it's a sports game, we have to do all the things that you've to do going into a big night, a big event" Delta says. She thinks Glenn's gut tells him to play it safe. "You don't go for moments, you've to understand that when you are the superstar, you've got to have events in songs" Well, that actually made a lot of sense Delta. That advice resulted in Glenn's best performance to date. The risks Delta made him make paid off and made his performance much more honest, especially the ending, in which he repeated the final line twice. Delta's song choices have been questionable in the past but this was actually a clever decision. Good for them.
Rachael Leahcar

"Nights In White Satin" (The Moody Blues) - 9/10 - Rachael is singing this song because her grandma always wanted her to sing in Italian and she just wanted to make her proud. "This is a song where I've to pull all my strings and all my experience and make this song the one that takes me to the final" Rachael wasn't feeling well, she had the flu apparently. It definitely was showing on her voice. She didn't sound as angelical as she's sounded before. That said, I liked her voice much more this time around, she should have a permanent flu cause it made her voice much more gritty and unique. Either way, great performance, plus she did sang in Italian.
Team Keith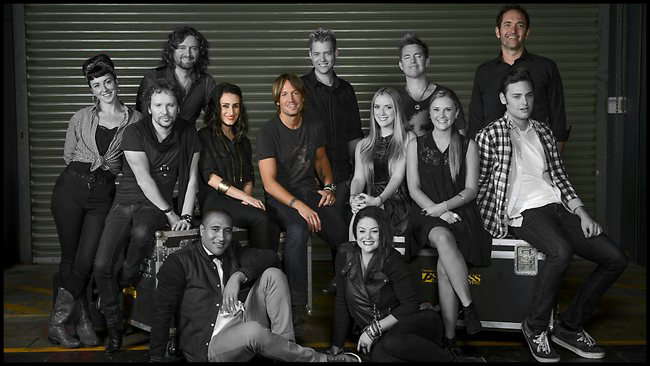 Diana Rouvas
"Stormy Monday Blues" (Earl Hines) - 9,5/10 - Diana loves this song but that rehersal sounded messy. "Out of everybody, she's the one that's growing exponentially every week" (Keith) She's the dark horse in person. I bet no one ever thought she would make it this far when the compeition started. I've never heard this song before but I'm loving what I'm listeining. Diana is an incredible performer, she's one of those singers that makes you belive everything they are doing. I loved the bluesy jazzy feel of it and all the vocal gymanstics she did where totally phenomenal. She deserves to move on.
Darren Percival

"A Song For You" (Leon Russell) - 9/10 - Darren says that this song is like being given a gift. He always loved this song, he says it's like singing about his life. This is better than last week, just because he's feeling the song much more. His voice still sounds old fashioned but there was a nice grit during this performance. Probably my favourite from him so far. Diana schooled him though and I'd be majorly pissed if Keith decided to pick him over her.

"Here's Where I Stand" (Tiffany Taylor) - 8/10 - "This song represents everything that I've ever been through" she says. "If the Sarah that we see on stage and the Sarah that I know off stage can become one, she's going to be unstoppable" (Joel) A big change from last week's Whitney tune. This is stereotypical diva, something I've been criticizing about her for a while. All the backing singers behind them was over the top but despite those two things, Sarah's voice is outstanding, I just wish she was a little more original.
"My Kind of Love" (Emeli Sandé) - 7/10 - "I need Ben to prove himself one more time" Joel said, so what a better way to do so than by giving Ben an impossible song to sing. "This is probably the biggest song that I've ever attempted, the vocal range is massive". It's obvious that he's fighting to get this song right. It's really hard to sing, especially for a guy. Taking that into consideration he did a damn good job with it. Yeah, he struggled a little, well, a lot, during the chorus but he performs with such a conviction that I don't mind how awful he's sounding. This was his worst performance to date but it also was my fave from him. Weird. Haha. I just want his album.
Results
Eliminated Contestants:
Fatai Veamatahau
Glenn Cunningham
Diana Rouvas
Ben Hazelwood
Delta and Seal made the right decisions. Rachael and Karise have been the frontrunners from the start and their performances have been flawless from the beginning. Fatai and Glenn were great tonight, but not as good as their competitiors. Joel had a tricky decision, Sarah sang better but Ben has more star potential despite bombing tonight. I'm sad to see Ben go, but I'm sure he'll have a carrer after this. Another contestant that'll have a carrer, Diana Rouvas, the darkhorse of the competition. The girl nailed it tonight and despite that, Keith decided to eliminate her. I think he chose the artist who could make him win and not the one who sang best. Wrong move Mr Urban.
This entry was posted on 6:59 PM, and is filed under
Ben Hazelwood, Darren Percival, Diana Rouvas, Fatai Veamatahau, Glenn Cunningham, Karise Eden, Rachael Leahcar, Sarah De Bono, TV, TVO Series, TVOA
. Follow any responses to this post through
RSS
. You can
leave a response
, or trackback from your own site.